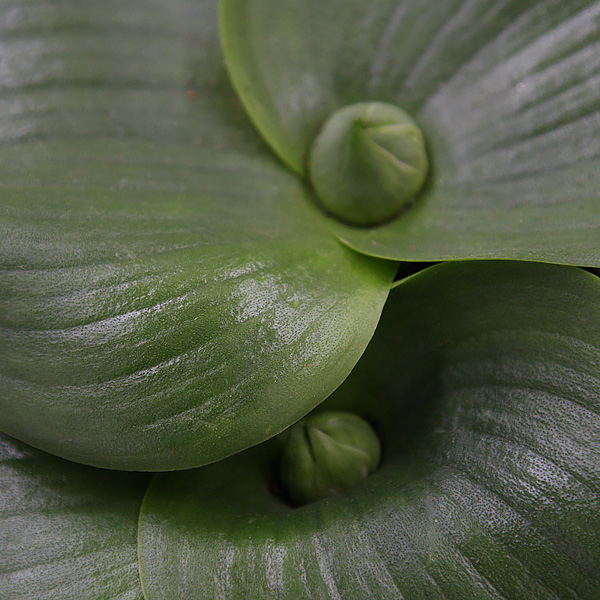 Also known as the 'hedgehog lily' Massonia depressa is a low growing succulent native to South Africa semi arid regions.
With a pair of prostrate (flattened) leaves that sit on the ground and in flower Massonia depressa has a white thistle shaped flower (made up almost entirely of stamens) that sits just above the leaves.
Widely grown by collectors and enthusiasts this is the largest growing species of the genus. The leaves will get to nearly 10 inches long (30 cm). An excellent indoor plant that will flower in winter, just when you need it to.
The flowers themselves are like paint brushes, little bristles, they are fragrant, a little like honey, though not over powering.
Care
These are winter growing plants, in summer they are dormant and go completely underground.
The main cultivation requirements for Massonia depressa are well drained soil, proper watering technique and full sun.
We would suggest :
Growing in containers.
Using a specialist succulent and cacti soil mix.
Being able to provide full sun, or very good light in winter.
Active growth is during winter and this is the only time that they really need any water. For the rest of the year they can be put into a light dry position.
They must be in a frost free position at all times.
How to water Massonia
Water them once with a deep watering at the very end of summer.
Do not water again until the leaves begin to appear.
Once the leaves appear, water once a week.
As soon as the leaves begin to die back, stop watering.
Keep dry and in a warm partly shaded position all through summer.
Looking at Succulents in more detail
Varieties
Massonia jasminiflora – Pink to white flowers, smooth foliage.
Massonia pustulata – Varied leave colour from bluish deep green to spotted green and purple.
Massonia echinata – more rounded leaves with a white flower.
Massonia hirsuta – Not widely found in cultivation, narrower leaves with 'hairs'
Propagation
The species can be propagated from seed.