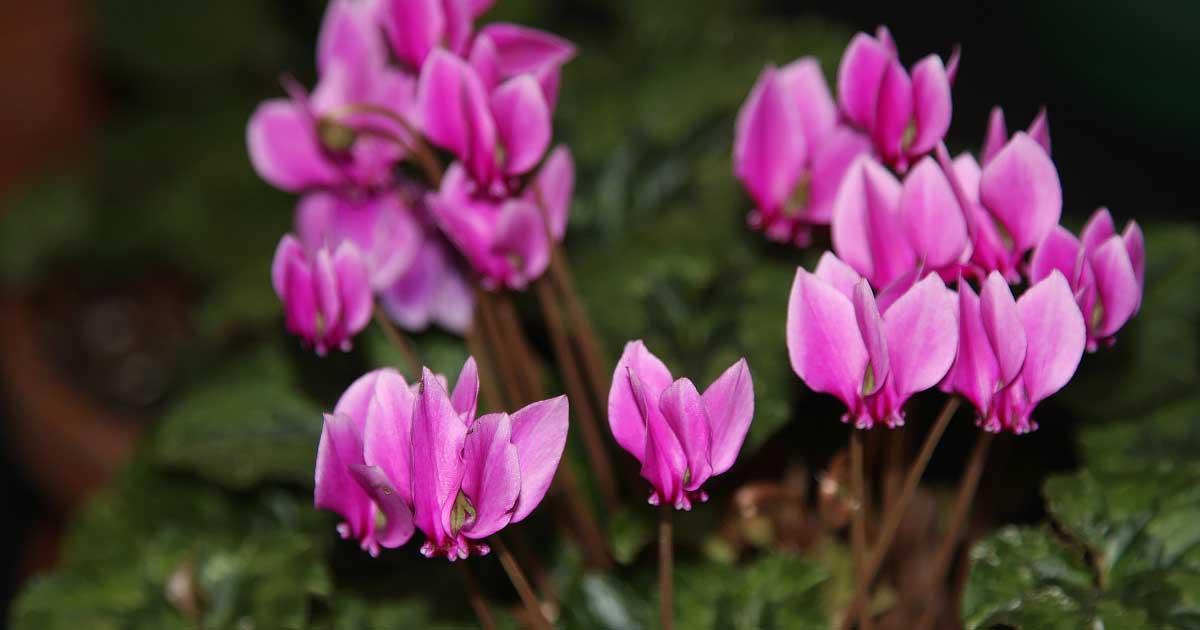 Although spring and autumn are regarded as the main seasons for Cyclamen with a little research you can have Cyclamen flowering year round.
All Cyclamen grow from bulbs or tubers and can be propagated from seed, lets take a look at Cyclamen Varieties for all seasons
Major Cyclamen Varieties by Season
Cyclamen hederifolium flowers form mid to late summer into early autumn/fall. It is perhaps the most widely grown species in the garden. Characterised by large tubers, flat looking and seeing out roots from the top as well as the sides it grows from France and Switzerland through to Greece. Its is fairly easy and reliable, grows well in dappled shade and is low care. The foliage appears after most of the flowering is over and this lasts until late spring when the plant goes into dormancy.

Cyclamen graceum is from Greece, Crete and Turkey, it flowers in fall/autumn, however it is a species you could grow for the foliage alone, and this one breaks the rules, it like to grow in full sun, and does not like frosts or long cold winters. Summer dormant.

C.africanum flowers in autumn and is summer dormant. It requires a frost free position, and very good drainage.

C. persicum is the florists cyclamen, however what the florists sell are a very different strain. The species itself is a tough drought tolerant one, it is summer dormant, like a little shade and flowers in mid winter into spring.

For winter flowers it is really C.coum that is the best, it will flower from winter through until early spring. It prefers a cooer environment, so part shade beneath deciduous trees where it gets protection from the heat of summer.

C. repandum has leaves the appear in late winter and flowers in early spring, again it likes dappled shade and like a good humus rich moist soil,

C. pseudibericum is another spring flowering species, dappled shade and some moisture.
Other Cyclamen Varieties
Some species are not readily available such as
C. purpurascens. It is summer flowering, loves leaf mould and dappled shade.
C. libanoticum is another, this one thrives in slightly alkaline soils. It is from Lebanon, it flowers from winter into spring, and requires good drainage especially over winter.
C. cilicum is from Turkey, not the easiest to grow, however once established it will grow outdoors in well drained soil and light shade.
C. trochopteranthum (syn. C. alpinism) is from Turkey, not the easiest to grow it requires a mild climate, bright filtered light, regular watering and some fertiliser every 3 -4 months.
Cyclamen mirabile is another species form Turkey and flowers in fall/autumn