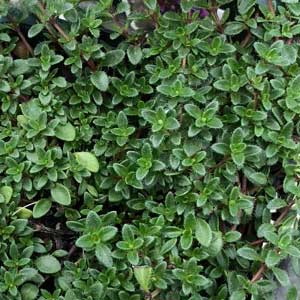 When gardeners and landscapers to consider using ground cover plants they need to find plants that satisfy two criteria. Plants that fill the required function of a ground cover plant, but also have the added characteristic of beauty.
A plant that looks dull and lifeless through much of the year does not make a great ground cover, and one that looks great for a month when in flower, yet also lets the weeds in does not fulfil the function.
12 Best Ground Cover Plants
Many are easy care and require little to no maintenance
12 of the Best – Low Growing Ground cover Plants
Thyme
Many varieties of thyme make great ground cover plant, some much lower than others.
Sagina Subulata (Irish Moss)
Coprosma Species
Many Coprosma make great ground cover plants including Coprosma x kirkii 'Variegata', Coprosma 'Mangatangi' and Coprosma acerosa 'Hawera'
Ground Cover Artemisia-schmidtiana-'Silver-Mound'-Nana
Artemisia Species are great ground covers for dry conditions, look for the low growing forms including Artemisia-schmidtiana-'Silver-Mound'-Nana.
Bergenia cordifolia another one for part shade, large foliage and attractive flowers.
Ceanothus species including Ceanothus 'Blue Carpet'
Epimedium Species
For shade the evergreen epimediums make great ground-cover plants, some have more interesting foliage than others. Read more about epimediums
Helleborus Species
Hellebores are another great ground cover for shaded dry areas, great range of flowers as well. Read more about Hellebores
Pachysandra terminalis (great for shade)
Sedums, the low growing or creeping varieties make excellent ground covers, especially in dry conditions.
Vinca minor is popular, however it does need to be used with caution. Its place is in an enclosed area, a garden area it can't escape from. It also works in commercial landscaping. Some varieties such as 'La Gave' or 'Bowles' variety are said to be vigorous than the species.
The function of ground cover plants.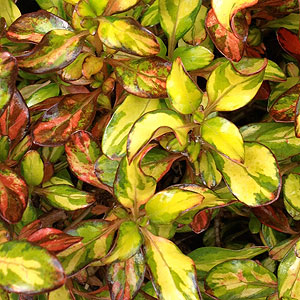 The idea of using ground cover plants is twofold, to reduce the need to weed an area and to look good.
Ground cover plants reduce the need for weeding by either shading the soil so that weeds do not grow, or by 'crowding out' weeds. This characteristic makes them appealing to many.
The concept of 'good looking' ground cover plants is often thought of as the flowers, more important is the foliage. Flowers last for a few weeks, foliage can be kept looking good almost through the year for many plants.
Ground cover plant uses
Some of the most useful plants in any garden are ground cover plants. They perform a number of functions and the low growing types are amongst the most sought after. In general two type of ground covers are available.
Those with a low spreading habit such as the low growing conifers. We could call these mound forming shrubs.
And those that spread by underground rhizomes or runners to form a dense Matt over time. These are creeping, clump forming and suckering types.
Some will need a little pruning to keep them low, such as Coprosma-x-kirkii-'Variegata' which we easily keep low with a twice yearly shear. Others such as Artemisia-schmidtiana-'Silver-Mound'-Nana', will stay naturally low and require little attention at all.
Look for these characteristics.
The ornamental nature of flowers and foliage.
For covering large areas of bare ground.
For helping prevent erosion.
Useful to help suppress weeds
They can also act as a living mulch, protecting the soil from the heat of the sun.
When planting ground covers you will still need to do some weed control especially for the first few years. After this it becomes a little easier as the plants spread and begin to make maintenance easier.
Epimediums are a classic example, after a few years they will choke out most competing weeds.