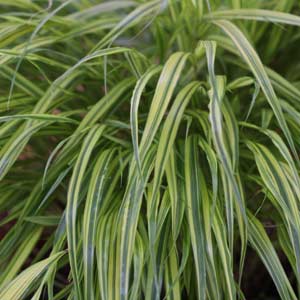 One of the increasingly popular ornamental grasses now available for sale, Hakonechloa macra 'aureola'.
This is a beautiful weeping grass with soft texture. Also known as Japanese Forest Grass this is best suited to USDA Zones 5 – 9 although if container grown it can survive outside these zones.
This is a clump forming ornamental grass with arching green foliage, often referred to as 'Japanese Forest Grass' or Japanese Temple Grass' .
A deciduous grass that can have the old foliage removed as new shoots appear in late winter, Hakonechloa macra 'aureola' looks great in a pot or container. It is an excellent addition next to pond or waterfall especially in a Japanese style garden.
Hakonechloa macra Care
Hakonechloa grows well in part shade to full sun and makes a great border plant. Relatively slow growing and clump forming a humus rich well drained soil is best.
Planted in a container for a stunning display as the foliage cascades down over the sides. Plant en-masse in the garden where the soft foliage adds a wonder touch to Japanese style gardens.
Said to grow well from Usda Zones 5 – 9, in warmer zones it will need extra moisture and protection from hot sun during summer.
If looking at mass planting, try an initial spacing of around 12 inches, depending on the size of the plants.
Hakonechloa species and cultivars include:
Hakonechloa macra 'All Gold'
Hakonechloa macra 'Nicolas' green in spring to summer but with it red to bronze tones in fall.
Hakonechloa macra 'Beni Kaze'
Hakonechloa macra 'Alboaurea' a variegated form.
Pruning
No Pruning is required, plants will die back in winter.
Simply clean up around them ready for spring.