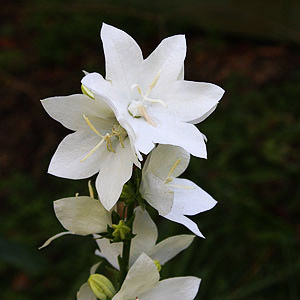 Commonly called 'Bellflowers' Campanula are a varied group of plants perhaps best known for the 'Canterbury Bells' which are Campanula medium.
However their is more to this wonderful group of plants than one species. And although some flowers are indeed distinctly 'bell shaped', other varieties are more 'star shaped', such as the wonderful C. persicifolia pictured right.
Some are low growing and spreading, some mound forming and others are tall growing varieties reaching over 3ft tall.
Lots of hybrids around, and some garden worthy species as well, however, some can be a little weedy.
Care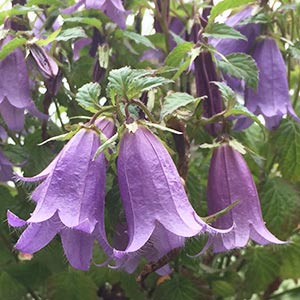 General Care
In general Campanulas require a humus rich soil and some moisture during summer. However with so many species growing requirements will differ.
Look for specific growing instructions when purchasing.
Campanula Varieties
C. medium – The traditional bell shaped flowers and the true 'Canterbury Bells'. Huge number of hybrids and great range of flower colors.
C. poscharskyana – This is the Siberian bellflower, a low growing species with violet blue flowers.
C. muralis – (syn P. portenschlagiana) Another low growing species , vigorous with purple flowers
C. persicifolia – Flowers held on tall stems either purple or white, matt forming foliage below
C. alliariifolia – twentieths might be one of the most graceful of all. Ivory white bell shaped flowers on long arching stems.
C. longistyla – Look for the cultivar 'Isabella'. A pyramid of blue bells, masses of flowers on a compact plant to 1ft tall.
C. 'Kent Belle' – Distinct purple bell shaped flowers on stems to 3ft tall.
C. 'Sarastro' – A hybrid form with purple bell shaped f lowers, lower growing 'Kent' Belle'.
C. garganica – Brilliant golden green leaves, bright blue flowers and an interesting mounding habit. Evergreen in mild climates.
C. incurva – RARE, large ice blue bells, almost white that point upwards. It will take a few years to flower, and after flowering, well thats it, it dies. If you get it flower, collect the seed. Said to be the same as C. leutweinii, however the flowers of that one are more blue ( we think)
C. lactiflora – This is a taller growing species that can easily reach 3ft in height. Large clusters of violet blue flowers from spring to summer. Excellent cottage garden plant.
C. takesimana – This is the Korean Bellflower, attractive mottled pink flowers, HOWEVER it tends to be weedy, and we would not have it in the garden.
The hybrids are the most sought after and literally hundreds of them are available for sale.
Propagation
Propagation of most varieties is easy by division of established clumps in early spring.
Where to buy
Campanula species and hybrids are available for sale from the following growers
---
SUNSHINE FARM and GARDENS – phone 304-497-2208
HC 67 Box 539 B

PINE KNOT FARMS – phone 434-252-1990
681 Rockchurch Road, Clarksville Virginia 23927 USA

SEQUIM RARE PLANTS
500 N. Sequim Ave. Sequim, WA 98382

DIGGING DOG NURSERY – phone (707) 937-1130
PO Box 471 Albion CA 95410