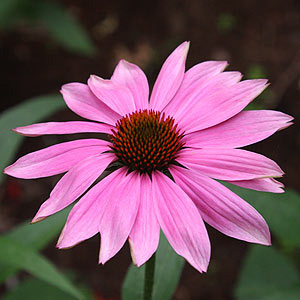 Echinacea are known as 'purple cone flower' however these plants do come in purple as well as white and yellow (yellow is difficult to find).
They are native to the USA, particularly the eastern and central regions.
Blooming in late summer, they get their name from the 'Daisy Like' cone shaped flower heads. They are attractive to butterfly's, and Echinacea are also good as cut flowers.
A number of cultivars are available including Echinacea purpurea 'prairie splendour' pictured right.
Why are Echinacea so popular ?
They are easy to grow and make great cut flowers.
The flowers attract bees and butterflies.
If you leave the seed heads they will attract birds in the winter.
They are drought tolerant.
They are perennials, so will come back year after year in USDA Zones 3 – 9
Care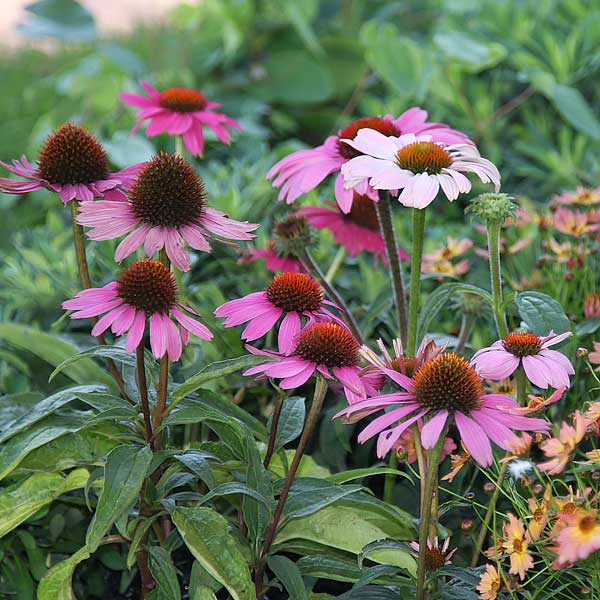 These are a hardy plant from the prairies, drought tolerant due to the wonderful root system and they just come back year after year.
We suggest planting them in groups using the flower colors to provide contrast.
So what are our top tips for growing the 'Cone Flower'
Full sun and a well drained humus rich soil.
Water well through the first summer.
In very dry periods, choose: either water, or have poor performing plants.
Looking at Drought Tolerant Plants in more detail
Landscaping Uses
Echinacea add an architectural element to the garden, growing to 2-3ft the one long stems flowers are quite dramatic. The flowers are large and bright adding great colour to the perennial border.
Echinacea is said to be popular as a herbal remedy for a range of conditions, including as a cure for colds. The common belief is that taken regularly at the first sign of a cold echinacea will provide some relief.
It is believed that echinacea can be a stimulant for the immune system, however most clinical studies have found no firm evidence of this. HOWEVER.. It is also reported that echinacea may have side effects including, nausea and dizziness, so consult your doctor before using.
Varieties
Echinacea 'Cheyenne Spirit' – Forget boring old purple, how about pink, red, orange, yellow and white. Available as seed and they are said to flower in the first year.
Echinacea 'PowWow wild Berry' – With the color of a wildberry smoothie, this one is almost luminous.
Echinacea purpurea magnus – Great deep pink flowers, even better colors in light shade.
Echinacea purpurea 'Alba' – The White Coneflower
Echinacea angustifolia – The narrow leafed coneflower
Echinacea pallida – The narrow petal coneflower
Echinacea Plants are available for sale from the following nurseries
---
DIGGING DOG NURSERY – phone (707) 937-1130
PO Box 471 Albion CA 95410
A spectacular selection of hard to find perennials, ornamental grasses, shrubs, trees and vines for your garden. Includes: echinacea purpurea.
www.diggingdog.com

CROWNSVILLE NURSERY
Mail Order Nursery with a great range or perennials and other plants. Includes: echinacea purpurea.
www.crownsvillenursery.com
BALI-HAI MAIL ORDER NURSERY – phone: 00442828885289
42, Largy Road city: Carnlough, Ballymena
Co.Antrim postcode: BT44 0EZ
Cottage garden perennials shipping worldwide.
www.mailorderplants4me.com

CLASSY GROUNDCOVERS – fax: 443-773-5627
P. O Box 2556 city: Blairsville GA 30514
Evergreen flowering ground covers, grasses, vines, ivy, … Free Shipping of over 150 varieties of quality ground covers.