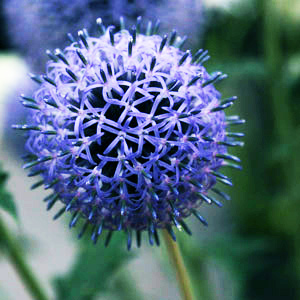 If you are looking for a standout plant for a dry area in the garden Echinops ritro 'Veitches Blue' is one to consider.
Echinops ritro is the most widely grown species, magnificent steely blue flowers in summer on a tall growing plant.
It does make an interesting feature in the garden, you can grow it in a container and it also grows well in poor soil.
One of the really strong blue flowers, this is not an invasive type of thistle and attracts a variety of pollinating insect to the garden.
The name is a little debatable with Echinop bannacticus being the species, so maybe it should be Echinop bannacticus 'ritro'. They are also called 'Globe Thistles'
Planting
With its strong upright habit Echinops ritro is useful planted in the border in a small clump.
Plants will reach around 4ft in height, the temptation is to plant it a little toward the rear of the garden.
For some reason people like to touch this prickly customer, so plant it where they can reach it, tell them its prickly and let them decide.
The flowers are wonderful as cut flowers, lasting well indoors, they are very attractive to bees, which is good thing in any garden.
Care
Best grown in a warm sunny position and not fussy about soil, this is a drought tolerant low care plant once established.
You are actually doing the plant a favour by planting it in poor soils, it seems be stronger in these conditions.
Plants can be pruned back to the basal foliage after the first flowers have faded to encourage a second flush of the attractive prickly blue ball shaped flower later in the season.
Looking at Drought Tolerant Plants in more detail
Varieties
Echinop bannacticus rito 'Taplow blue'
Echinop bannacticus ritro 'Veitches Blue
Echinop bannacticus ritro 'Taplow purple'
Echinops bannaticus 'Star frost' is a white flowering varoety.
Echinops ritro are available for sale from the following nurseries
---
BLUESTONE PERENNIALS
Offering a wide selection of bulbs, perennials, grasses, herbs trees and shrubs.
www.bluestoneperennials.com