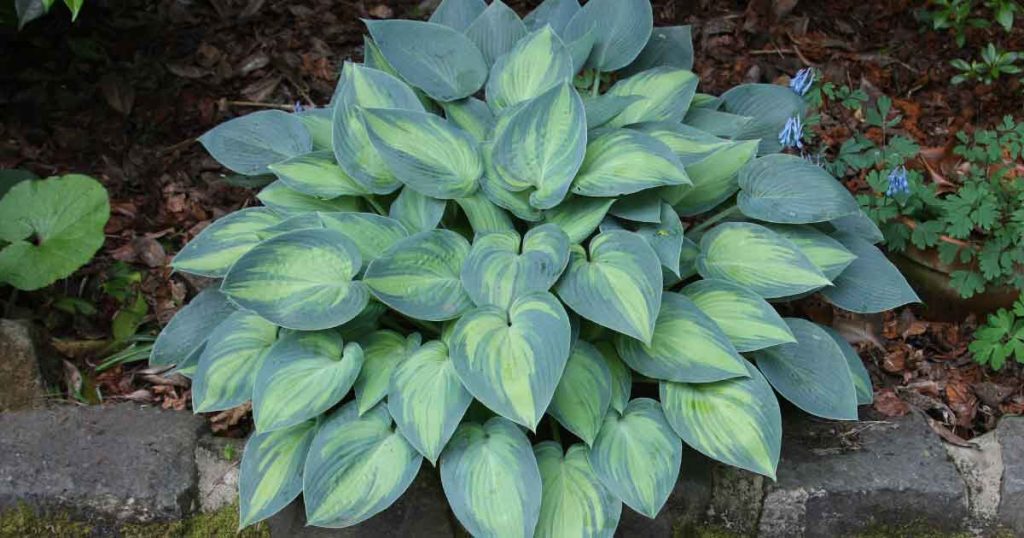 With Hostas coming in different colors, leaf forms and sizes, these shade loving plants are a wonderful addition to shady position any garden.
Literally 100s of varieties of Hosta Plants are readily available for sale online we love then when planted in a clump next to a path where the foliage can be admired.
Grow them in the garden, in containers or even in hanging baskets, if you choose the right variety it is sure to make an impact.
The choice of size is one consideration. Miniature varieties will grow to around 6″ – 8″ tall, they are well suited to use as a low border or as fillers between other plants. The low growing nature allows them them to add scale to the garden.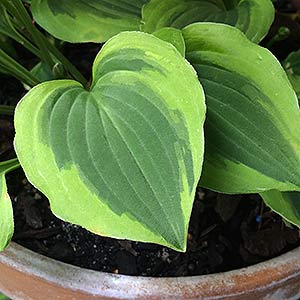 Larger growing types are the ones that add impact to the garden. Plant them in a prominent position where they can overflow onto a garden path, or perhaps in a container where they can be slightly lifted. Again adding impact to the garden.
Often grown in the garden and containers as foliage plants some have great flowers as well. Easy care in a shaded position these are some of the best plants for foliage color from spring to fall.
Hostas are grown primarily for the foliage which makes a fantastic show in spring especially if you have the room for and can buy the giant Hosta cultivars such as 'Hosta Princess Wu'.
Hostas do flower, and some flowers are attractive, however it is the foliage of the Hosta plant that is the real attraction.
Hosta Francee for example has green leaves margined with cream, while Hosta 'Blue Angle' has textured blue leaves. Hosta 'Dream Queen' has Yellow centers to its green leaves.
Best Small Hosta Varieties
Any plant with Hosta venusta in its name is likely to be small. This species from Korea is the parent of most of the small leafed types, so Hosta 'Gold Drop' should be named Hosta venusta 'Gold Drop'.
The miniatures are more difficult to find for sale, we tend to like 'Big Plants'. However, grown in a container you can get a wonderful mass of wavy colorful foliage.
Hosta venusta 'Kinbotan' – If you can find it this is tiny, deep green leaves toned with a lighter green.
Hosta venusta 'Ki Nakafu Otome' – Pale lime green to yellow with mid green variegation.
Hosta 'Blue Mouse Ears' – This is another with H. venusta in the parentage. Rounded rubbery blue green foliage.
Gold Edger – With good golden green foliage, Gold Edger will reach around 12″ in height and will quickly form a clump to around 24″ – 30″. Lavender flower mid season.
Extasy – Variegated foliage, creamy white with green to blue margins. One of the lowest growing to around 10″
Cherub – Bright lime green leaves with wavy white margins, another really low grower to around 9″ tall
Loyalist – On the taller side of small reaching around 16″ in height. White center with deep green margins.

You can see in the image right the difference in size between Hosta Leaves.
Some are large and heart shaped, others small and lance shaped.
You can also see the differing textures. The large leaf being ribbed, the smaller leaf has little texture at all.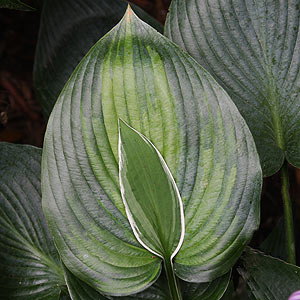 Another interesting difference with Hostas is fragrance.
Most have little to no fragrance.
However H.plantaginae is very fragrant, especially in the evening.
So those with hybrids with that species in the parentage will have more fragrance than others.
Large Leaf Hosta Varieties
The giant hostas can reach 3 -4 ft in height, they add height and texture to the garden. Some have deeply veined foliage, and these are the giant varieties that add the most impact. The giant varieties start at around 24″ tall, however look for the leaf texture and color, not simply the size.
Elegans – A proven winner over many years. Attractive blue green foliage, nicely cupped and puckered. Given good conditions H.elgans will form a clump 6′ round over time.
Sum and Substance – What can be said about what is most likely the most popular Hosta of all time. Large glossy leaves, great texture in yellow green leaves that can reach nearly 18″ long.
Sagae – Large mid to deep green leaves nicely margined with cream to white. The foliage color will vary depending on the amount of sun.
Maggie May – Large deep green leaves, glossy and heart shaped. However this large Hosta has a more upright habit that most. So the foliage tend to droop gracefully. The 'Rock and Roll' Hosta.
Cardewell Yellow – Probably the best yellow foliage of the large leafed varieties.
Empress Wu – Deep green veined leaves and it can reach 4′ in height in good conditions. It is the largest available.
Biggie – We like this for its heavily textured foliage, deep green and thick. And we like the texture in itself as well as for its slug and snail resistance.
You may also be interested in
You can find Hosta Varieties for sale at the following nurseries.
---
BLUESTONE PERENNIALS
Offering a wide selection of bulbs, perennials, grasses, herbs trees and shrubs.
www.bluestoneperennials.com