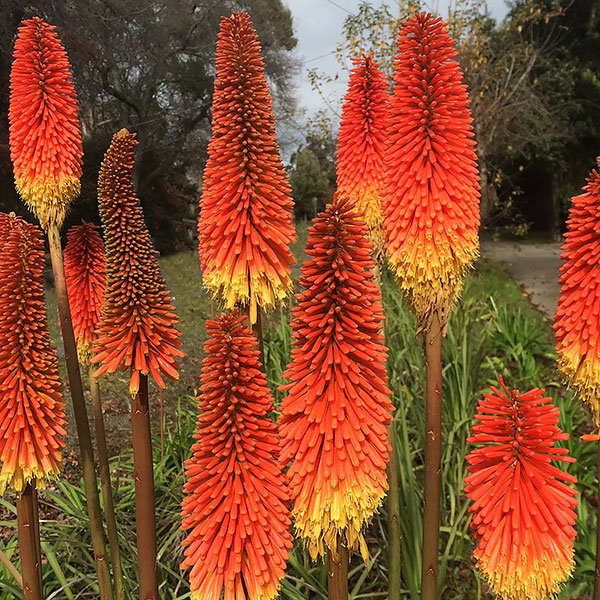 If you need a little height and vivid color in the border then Kniphofia might be the solution. Commonly called the 'red hot poker' although flower colors do vary and include shades of lemon and orange as well. However all have the trademark, poker shaped flower on a tall stem.
These plants are easy to grow, in fact it knowing how to pronounce the name that is hard, we go for ny-FOE-fee-ah, however a few variations exist on that.
The colours available in kniphofia are increasing with the development of new hybrids, these include green, pink, cream and apricot. Traditional colors include red, orange and yellow.
The interesting development is in the varieties with a gradient of color, it changes from top to bottom in the flower.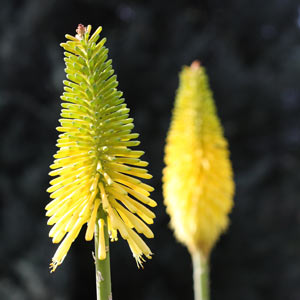 You can grow the taller varieties at the back of the border, the smaller ones are best towards the front, they are also better in containers than the taller ones.
Pruning and Care
Kniphofia can be grown in a wide range of climate zones however they do not do well in tropical regions, or in areas subject to heavy frost.
So USDA Zones 5 – 9, although as usual, a few gardeners are growing these in cooler areas. Those who have the ability to create a suitable micro climate.
All varieties prefer a sunny position in a well drained humus rich soil. Although kniphofia are generally fairly drought tolerant, the smaller growing or dwarf varieties require a little more water than their taller cousins.
Depending on variety they will flower either summer (K linearfolia and K Rigidifodia) or winter (K Winter Cheer and K praecox).
Kniphofia can be divided in fall or in spring and can be cut back to 8ins after flowering, this promotes new growth.
Pruning
Some gardeners simply do not prune them at all, others like to clean them up in spring.
So as the new growth appears in spring, and the frosts are over, you can clean out the old foliage. If the whole clump just begins to look like a mess, then again cut it back hard in spring, taking care not to prune the new growth. Those long lance shaped leaves do not look great when cut in half.
Looking at Drought Tolerant Plants in more detail
Varieties
Kniphofia uvaria 'Red Hot Poker' or 'Flame Lily.
Kniphofia caulescens.
Kniphofia uvaria 'flamenco' a particularly nice orange / red flowering plant.
Kniphofia northiae is an unusual species, much broader foliage than other species.
Kniphofia hirsuta 'firedance' is a more compact plant.
Kniphofia thomsonii subsp. thomsonii
Kniphofia Plants are available for sale from the following nurseries
---

DIGGING DOG NURSERY – phone (707) 937-1130
PO Box 471 Albion CA 95410
SEQUIM RARE PLANTS
500 N. Sequim Ave. Sequim, WA 98382
www.sequimrareplants.com