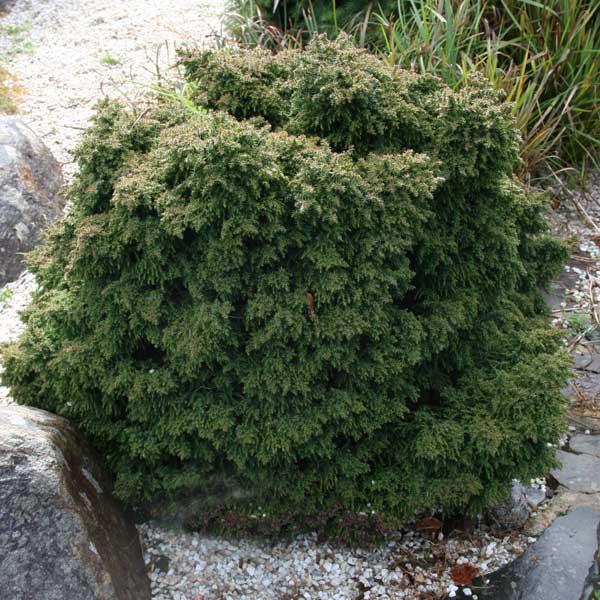 Dwarf Conifers are a very popular garden plant and are available for sale online from mail order nurseries. useful in so many landscaping applications they are perhaps a little underused in many gardens.
With varieties of dwarf conifers available in a range of colors such as green, blue/green, yellow and variegated and forms including miniature, tiny prostrate and cone shaped dwarf conifers make great small feature plants as well as good ground cover plants.
So we are looking at plants such as Juniperus x media 'Daub's Frosted'. This is a low growing shrub that spreads to more than 3ft. Golden tips with a deeper green color otherwise. Excellent for a border or rock garden.
Cryptomeria japonica 'Globosa Nana' is at home in the rock garden, general garden border or in a container.
Landscaping Uses
Low growing, prostrate and dwarf conifers are widely used as ground cover plants and as landscaping plants.
The evergreen nature of conifers and the hardy tolerant growth habit make dwarf conifers essential plants for both commercial landscaping and the home garden.
Many are drought tolerant, able to cope with poor soils and are generally a maintenance free plant that requires no pruning other than removal of dead or damaged wood.
More information
Dwarf conifers are available in a range of coniferous plants including Abies, Thuja, Pinus, Juniper, Picea, Chamaecyparis and others.
Dwarf Conifers are available for sale from the following nurseries
---
TINY TREASURES NURSERY
PO Box 20250 Keizer OR 97307
phone: 503-463-8602 fax: 503-390-0028
Rare plants from unusual places! That's what Tiny Treasures Nursery is all about. Daphne, Hebe, Dwarf Conifers, and Bonsai starts. Plants are intended for rock gardens, miniature railroad gardens, plant collectors, bonsai, container gardening, trough gardening, or growing on in an outdoor landscape.
www.tinytreasuresnursery.com
LAKE COUNTY PINES
29685 N Fairfield Road Grayslake Il 60030
phone 847-487-7408
Specializes in dwarf conifers and conifer trees.
Our conifer collection includes over 225 varieties of conifer trees many are dwarf conifers. You will enjoy these conifer trees in your conifer garden. Our conifer tree nursery has potted dwarf shrubs.
Most convenient dwarf conifer & conifer tree dealer to Chicago.
www.lakecountypines.com