Although not widely grown in the USA, Grevillea varieties are becoming increasingly popular as a garden plants in California, Oregon, Utah and Washington.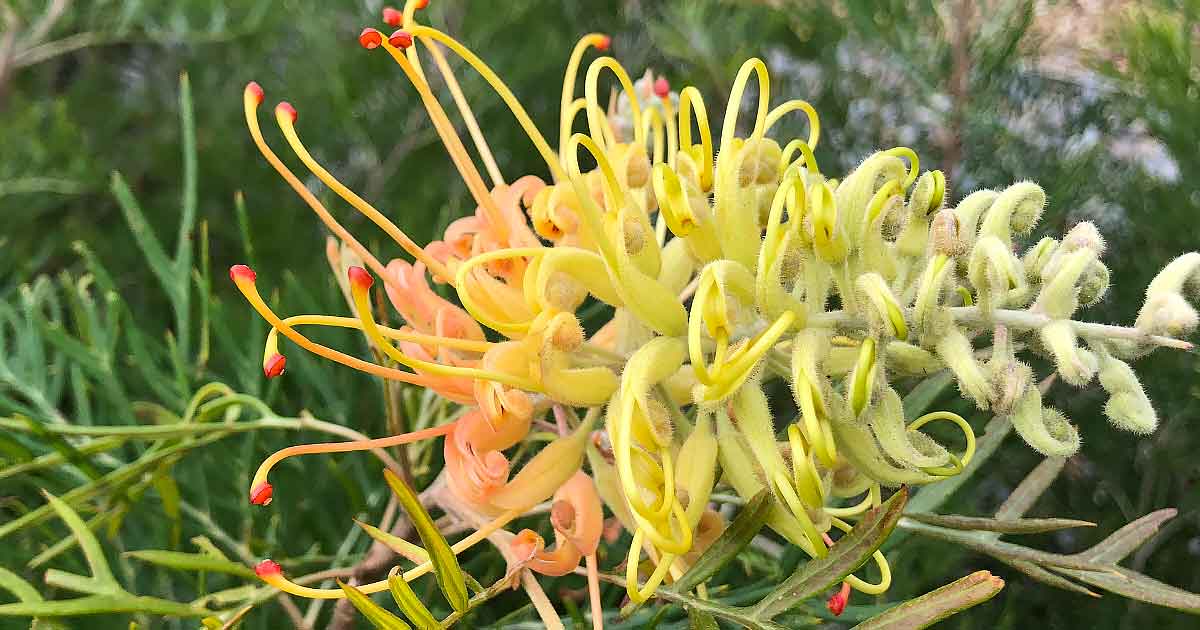 A varied group ranging from low growing ground cover plants to medium sized trees the ones most sought after are those with the magnificent flowers.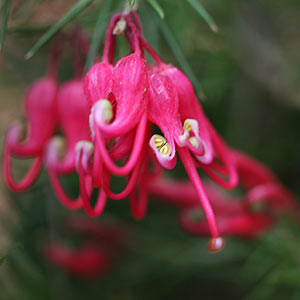 The ability to flower for long periods, as well as to attract nectar eating birds to the garden make Grevillea varieties well worth exploring.
It is a plant that suits the climate, and it does have brilliant flowers. Although not suited to all locations Grevilleas are fairly adaptable.
Selecting the right position is really the key to growing Grevilleas anywhere in the USA, and if we look at the basics, they require
Care
One of the main requirements is to use the right fertilizer, it must be low phosphate. Better still just don't fertilize Grevilleas.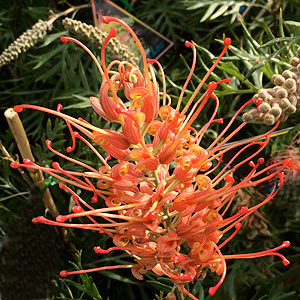 Use a little mulch around them and plant them in a good soil, with excellent drainage.
If you have met the growing requirements set out above, care is easy.
A position free from frosts and freezes.
They do prefer an acidic soil Good drainage is essential Very strong hot or cold winds can be a problem
Pruning
Pruning needs to be carefully considered.
Grevillea plants do not take well to hard pruning, cutting back into old wood is not recommended.
You can cut back by 1/3 each year as long as you do this in warm weather when the plant is in full growth.
You also need to be sure not to cut back into old wood.
Looking at Australian Native Plants in more detail
Grevillea Varieties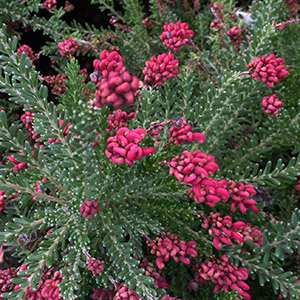 Having laid down the basics, it also needs to be said that Grevillea plants, especially the new cultivars are a very rewarding and undemanding plant once established.
Some species will be easier than others. Grevillea lanigera is one.
Look for the low growing forms for a ground-cover plant that will flower in winter.
The Cultivar, Grevillea 'Long John' is a little different, very upright with vibrant orange red flowers, this variety is also long flowering and some parts of California will flower almost year round.
Propagation
Propagation is from seed, it will take some skill, we suggest buying established plants instead.
You May also be interested in Corymbia ficifolia Red Flowering Gum