Known as the witch hazels, Hamamelis are a group of fall to winter flowering plants.
Although only five species in the genus, these plants have been hybridised and well over 50 cultivars are available for sale.
Valued in the garden for the color they add in winter, they are a group of particularly hardy and easy care plants.
With fragrant flowers in a range of colors from the brilliant red of Hamamelis x intermedia 'Diane' to the strong yellows of Hamamelis vernalis these are a must have plant for winter fragrance and color.
All varieties are fragrant, however some better than others, 'Arnold Promise' is perhaps one of the best fragrant yellow flowering varieties
Hamamelis × intermedia 'Jelena' is unique with its deep orange flowers.
Hamamelis Care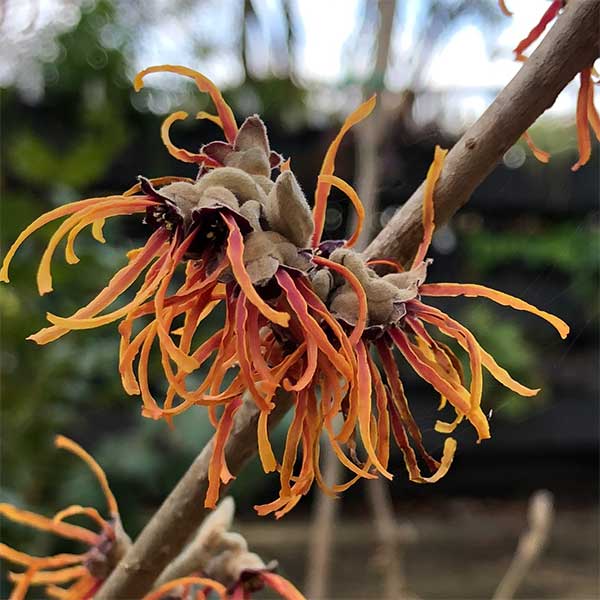 When planting prepare the soil well, dig in some well rotted compost and stake the young plant to provide some support.
Water in well with a liquid seaweed fertilizer, and keep moist through the first summer.
Some mulch around the base of the plant will help preserve moisture.
Once established, Hamamelis are relatively drought tolerant.
They will flower more profusely in full sun than in shade, so consider this when planting.
These are an easy care plant when grown in a humus rich soil. They thrive in full sun to part shade.
Hamamelis Varieties
Hamamelis x intermedia is a hybrid between the Chinese and Japanese species
Hamamelis vernalis is the Ozark witch hazel
Hamamelis virginiana is another of the American witch hazels
Hamamelis mollis is the Chinese witch hazel
Hamamelis japonica is the Japanese witch hazel
Not to be confused with the Winter Hazels or Corylopsis species.
Pruning
Hamamelis are best pruned after the flowers have faded. Most witch hazels are grafted, so start with removing any suckers from below the graft.
You can tidy up the plant by removing any dead or damaged wood, and then any growth that seems a little errant. Small spindly stems can also be removed.
If you need to prune to size, cut back to leaf buds on last seasons wood. You can get a little fancy and espalier these wonderful plants, if you have the inclination.
Where to Buy
Hamamelis Plants are available for sale Online from the following nurseries
---
BLOOM RIVER GARDENS – Phone: 541-726-8997 Fax: 541-726-4052
39744 Deerhorn Road Springfield, OR 97478