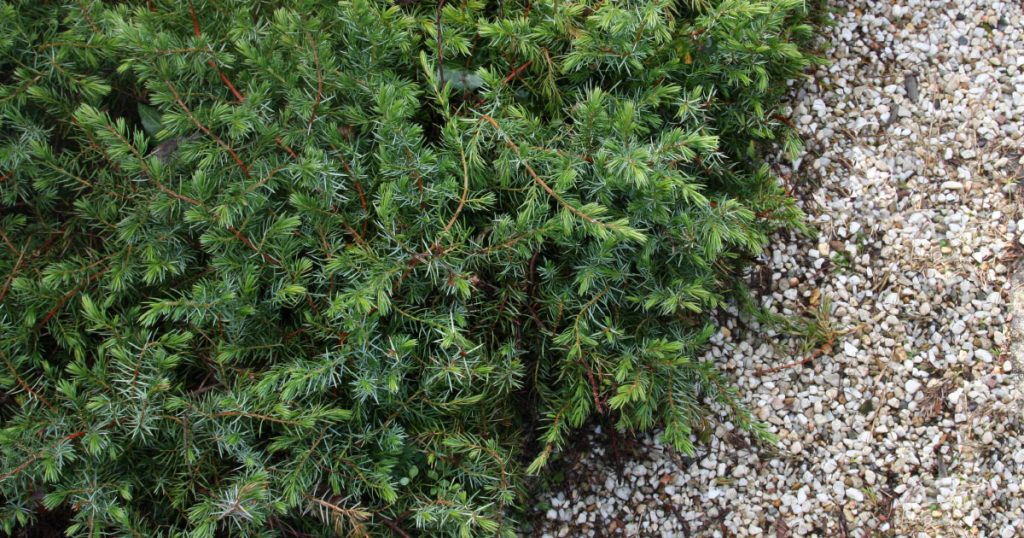 One of the very easy care ground cover plants, Juniperus conferta is commonly called the 'Shore Juniper'.
It is from Japan, grows well in seaside locations and not only makes a good ground cover plant but is also used for controlling erosion.
Use this low growing ground cover with dense foliage in mass plantings along driveways and in commercial building areas where it is low maintenance. As a feature in rock gardens, or to cover areas along retaining walls,
How to Grow Juniperus conferta – The Shore Juniper
You will need a sunny position and a well drained soil.
Dig the soil over well adding some compost and aged cow manure.
Plant at the same level as it was in the container.
Water in well with a liquid seaweed fertilizer.
Mulch around the plant to maintain a cool root run and suppress weeds.
Water through the first summer during dry periods.
Care
Soil
Well drained with a fairly neutral pH.

Position/Sun
Best in full sun with a little afternoon shade in warmer climate zones.

Watering
Low water requirements after the plant is established. Water deeply every few weeks during long dry spells.

Fertiliser
A general purpose slow release organic fertiliser in spring should be sufficient. You can apply twice a year to speed up growth a little.

Mulch
We suggest mulching around plant each year to maintain a cool moist root run.
Other Varieties to Consider
Juniperus horizontalis, has better tolerance to colder zones USDA zones 3 through 9.
The Emerald Sea cultivar of J. conferta is slightly more cold tolerant down to zone 5.
Juniperus conferta 'Silver Mist' has more silvery foliage as the name suggests.
Juniperus rigida subsp. conferta 'Schlager' is another to consider.
Summary Description
Botanical Name – Juniperus conferta
Common Name – Shore Juniper
Origins – Japan
Position – Full sun to a little shade
Soil – Free draining with good organic material.
Height – To around 24 inches (.6m)
Spread – To around 6ft (2m)
Foliage – Medium to dark evergreen, soft and needle like in appearance.
Growth Rate – Moderate
Frost tolerant – operates moderate frosts
Drought tolerant – Medium
Deer tolerant – Yes, however they can trample new plants.
We are Asked
What is the best Spacing for Shore Juniper?

Around 4 – 5 ft for a dense ground cover

Where does Shore Juniper come from?

Coastal areas of Japan

How do you prune Shore Juniper

Limit pruning to removing dead wood. Do not hard prune.