A low growing juniper with good blue foliage Juniperus Squamata 'Blue Star' is an outstanding rock garden plant.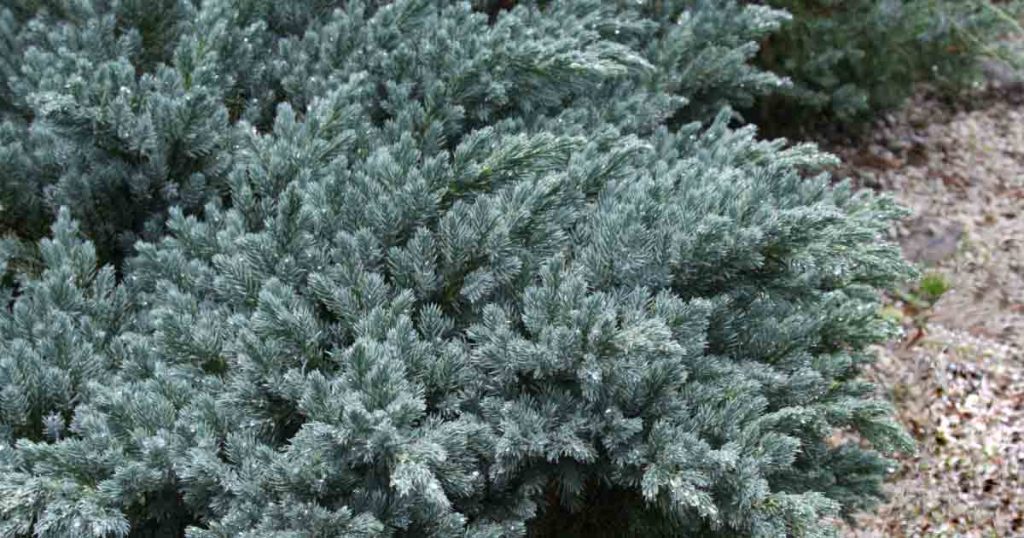 Dense compact foliage that will change colour through the seasons, a natural mounding habit and easy care nature make this a favourite with landscapers and home gardeners alike.
It is slow growing and will reach around 3ft (1m) in height with slightly wider spread. It will take around 5 years to reach 12 inches and 10 to reach its full potential.
We have also seen this plant grown as a standard.
How to grow Juniperus Squamata 'Blue Star'
Soil preparation is the key to good growth as is for all Juniper Trees. Dig the soil over well, add organic matter if needed and a little aged cow manure and compost. Well prepared soil will improve root growth and overall health of the plant.
Soil
Well drained with a fairly neutral pH.

Position/Sun
Best in full sun with a little afternoon shade in warmer climate zones.

Watering
Low water requirements after the plant is established. Water deeply every few weeks during long dry spells.

Fertiliser
A general purpose slow release organic fertiliser in spring should be sufficient. You can apply twice a year to speed up growth a little.

Mulch
We suggest mulching around plant to maintain a cool moist root run.
Garden Uses
Juniperus Squamata 'Blue Star' can be grown in containers where it provides year round interest and texture in a courtyard or on a patio.
In a rock garden this plant makes a great foundation plant.
You could plant Juniperus Squamata 'Blue Star' en mass as a an easy care ground cover plant on a slope, or along a driveway.
You May Also Like