Juniperus horizontalis is commonly called creeping juniper. It is found over a wide range from Alaska down to the Great Lakes. With such a wide range many different forms are available. Height, foliage colour and growth habit differ.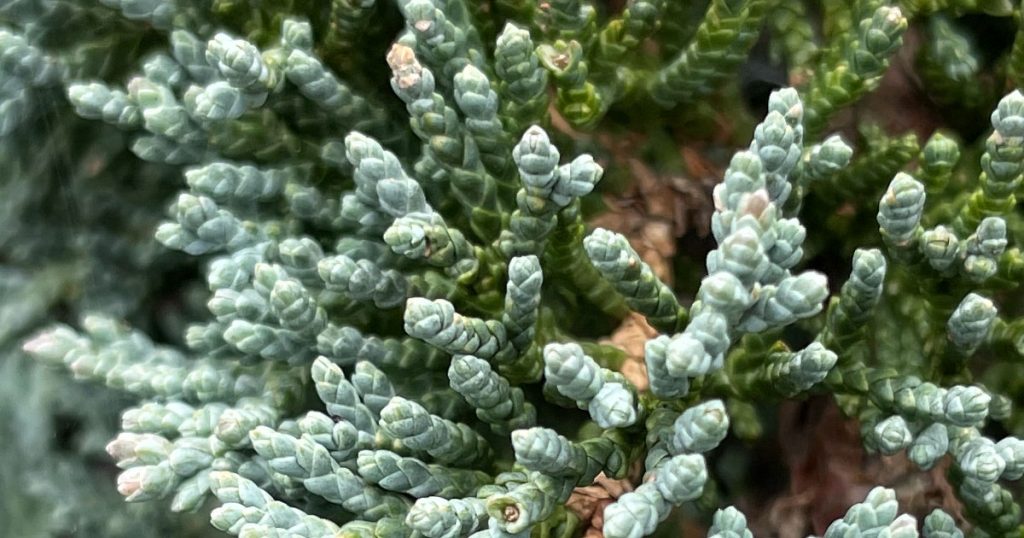 One of the most useful ground cover conifer varieties, it grows well in colder climates, however it is versatile and is regarded as hardy in USDA  Zones 3 to 9
Where to Plant Juniperus horizontalis
An excellent choice for any well drained soil, and especially useful as a low maintenance ground cover in difficult situations.
Plant the creeping Juniper in early spring and make sure you provide some moisture through the first summer. A good layer of mulch can be helpful. This early planting gives the plant a chance to establish a strong root system before the heat of summer and then the first cold winter.
Not suited to areas subject to foot traffic, and Junipers do not like hard pruning so choose your planting position with this in mind.
And yes, you can plant some of the smaller and slower growing types in containers.
Juniperus horizontalis Varieties and Cultivars
Juniperus horizontalis 'Marcellus'
Juniperus horizontalis 'Blue Pygmy' is a miniature form, excellent in rock gardens and crevice gardens. Extremely slow growing and a fascinating little plant.
Juniperus horizontalis 'Golden Carpet'
Juniperus horizontalis 'J.J. Hughes'
Juniperus horizontalis 'Icee Blue'
Juniperus horizontalis 'Lime Glow'
Juniperus horizontalis 'Douglasii
Juniperus horizontalis 'Wiltonii' One of the best
Juniperus horizontalis 'Prince of Wales' Around 6 inched tall but will spread to 3 – 6ft over time
Juniperus horizontalis 'Blue Chip' – Excellent blue tones to the foliage, around 10 inches tall.Spreading form
Juniperus horizontalis Glauca
Summary Detail
Botanical Name – Juniperus horizontalis
Common Name -Creeping Juniper
Origins – Northern America
USDA Zones – 6-9
Position – Full sun to a little shade
Soil – Free draining with good organic material.
Height – To around 24 inches (.6m)  depending on variety
Spread – To around 4m
Foliage – Medium to dark evergreen, shades of blue depending on variety
Flowers – Insignificant, small berries can follow the flowers.
Growth Rate – Slow to Moderate
Frost tolerant –  Yes
Drought tolerant – Medium
Deer tolerant – Yes, however they can trample new plants.