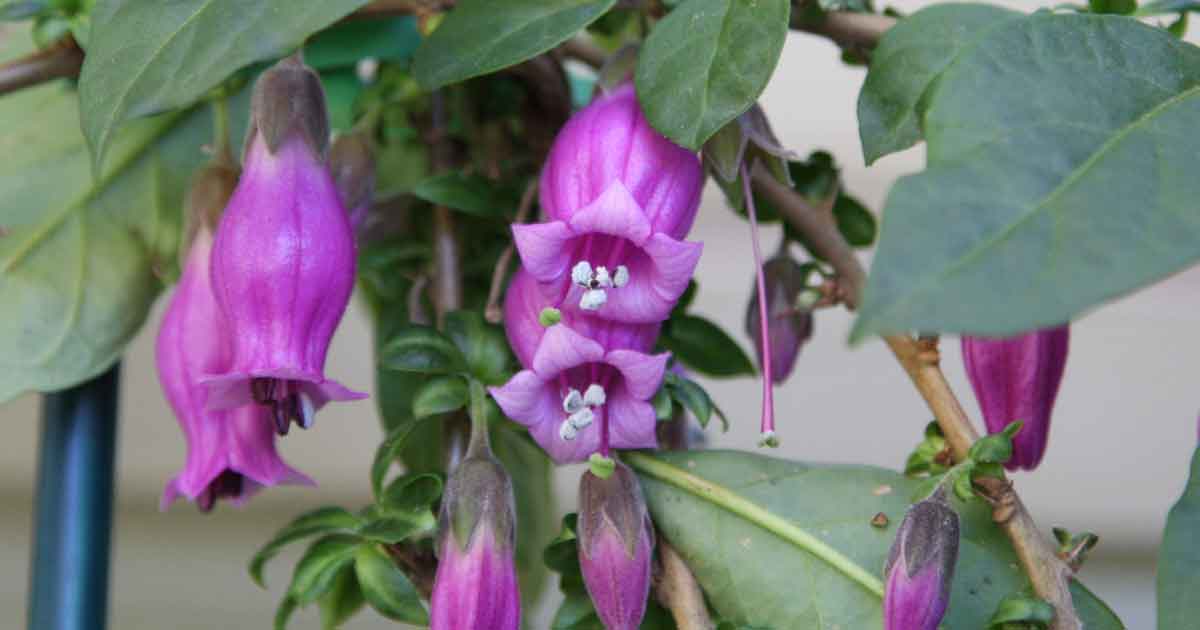 'Tree of Wizards'
Also known as the Sorcerers Tree, Latua pubiflora (Palo de los brujos) is from Chile.
This is a small tree or shrub with very attractive magenta to purple flowers in spring. The flowers are followed by small yellow fruits.
This is an easy plant to grow in warmer climates, in cooler zones it would need to grown in a container and overwintered indoors or on an enclosed patio.
Overtime this forms a branched shrub to around 18′ tall with thorny branches.
In cultivation it is usually pruned to much shorter than this.
This is a slow growing plant,
Care
It the natural environment it grows areas that are of a natural woodland situation. Bright light, away from direct hot sun. They do require a moist soil with good drainage. You can add extra drainage material to the soil mix if requires.
Once established, these are a very undemanding plant given the right conditions.
Watering
This is plant that grow naturally in warm humid conditions. Moisture year round with a short drier period in the winter months.
Light
Best grown in part shade or dappled light. You could use 60 – 80% shade cloth.
Temperature
Best in USDA Zone 9. It will cope with morning frosts, however not freezes and snow.
Growth  Habit
A scrambling shrub to small tree that can reach 5 m plus in height.
Summary Care
A humus rich soils essential, good drainage and warmth.
During the winter months, watering should be reduced, as cold wet soils are a major problem.
Suited to USDA to zone 9 where it is grown in light shade.
Varieties
Latua pubiflora is monotypic, the only plant in the genus.
It is rare in the natural environment, however it is available for sale from specialist nurseries.
Other Plants of Interest
Ashitaba
Lapageria rosea (Chilean Bellflower)
Myoga Ginger (Japanese Ginger)
Wasabi (Wasabi Japonica)
Propagation
Plants can be grown from cuttings or from seeds.
Seeds are sown on the surface, kept moist and warm in a sunny but not hot position.
Many growers have problems with seed germination, this is usually because seeds are not fresh and have not been stored correctly.
You May Also Like
Latua pubiflora are available from sale from the following nurseries
---
Sacred Succulents
PO Box 781 Sebastopol CA 95473