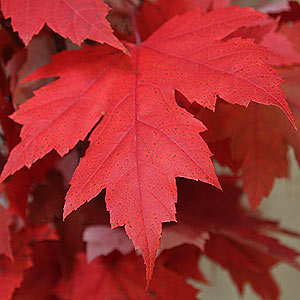 With such variety in maple trees, from large specimen trees to dwarf types suited to small gardens the choice is huge. Selecting the right maple tree for your garden requires just a little research, however they are a versatile group of plants.
The trees that we broadly call 'Maple Trees' are actually a large genus with many outstanding varieties well suited to garden use.

They do have a few things in common, they are all 'Acer' species, and they are 'nearly' all deciduous.
So with well over 100 species, around 90 sub species and numerous named cultivars it is not hard to find a Maple tree that will suit your garden. And a few are native to North America as well, including the valuable Acer saccharum, the species that gives us Maple Syrup.
We also have very popular species such as the Shantung Maple. Hardy, heat tolerant, and excellent shade tree, and a Maple that copes with the rigours of winter as well. Great leaf shape and brilliant fall colour.
Popular Maple Trees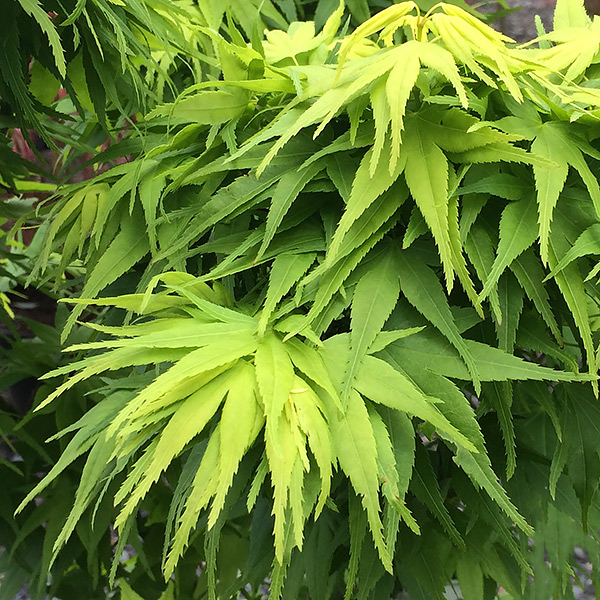 The genus contains over 100 species, however relatively few are used in landscaping. Nearly all are deciduous however this does depend on the climate with some species.
Some have unique foliage such as Acer palmatum- mikawa yatabusa, others wonderful bark.
Originally from Asia, Europe as well as North America the growth habit will depend on the species and the climate it is grown in.
Identifying maple trees by foliage is possible, however even this varies greatly with some being much simpler than others.
It is the Japanese Maples that are most sought after for the home gardener, generally smaller growing and with brilliant foliage these come from the Acer palmatum group.
However species such as Acer saccharum, or sugar maple are grown for other reasons, in the case of A.saccharum it is Maple Syrup.
The Japanese Maples.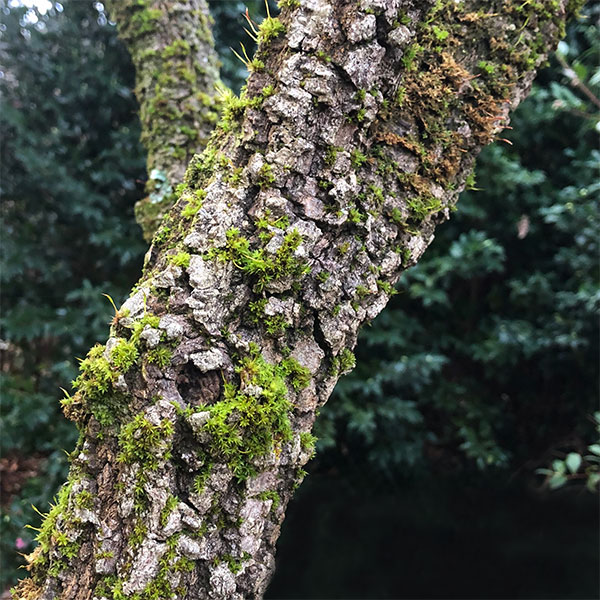 These are a group of trees that have been hybridised over many years to give us a range of ornamental trees unsurpassed by any other group except the perhaps the deciduous magnolias.
This is the group that gives us the greatest variety in foliage form, color and size.
However some are grown for the colour or the trunk, and some for the texture of the bark the , such as Acer palmatum arakawa and Acer palmatum senkaki or 'Coral Bark Maple'
From trees that will reach 35ft in height, to dwarf forms that will reach around 3ft. Upright forms as well as weeping and some with wonderful bark, either in color or in texture.
The Red Maple
This is a larger growing tree, Acer rubrum, and it makes a wonderful large feature tree. Reaching over 50ft in height the foliage turns to a brilliant red before a golden yellow. An excellent large feature tree.
Acer negundo
Also known as the Box Elder or Ash Leafed Maple, this is a variety that copes with warmer climates than most. Faster growing than other species with a variegated form being available.
Looking at Japanese Maples in detail
Landscaping Uses
Used as shade trees, feature trees in the garden, as street trees as well as in major parks and gardens across the country, Maple trees have a lot to offer the professional landscaper and home gardener alike.
You could for example simply grow Acer griseum for the wonderful coppery bark, equal in beauty to any Silver Birch. So don't take Maples for granted, in fact take a closer look at the wonderful varieties available from nurseries near you.
Selecting The Right Maple Tree
You need to look at a number of factors, some related to growth habit, others related to aesthetics.
Climate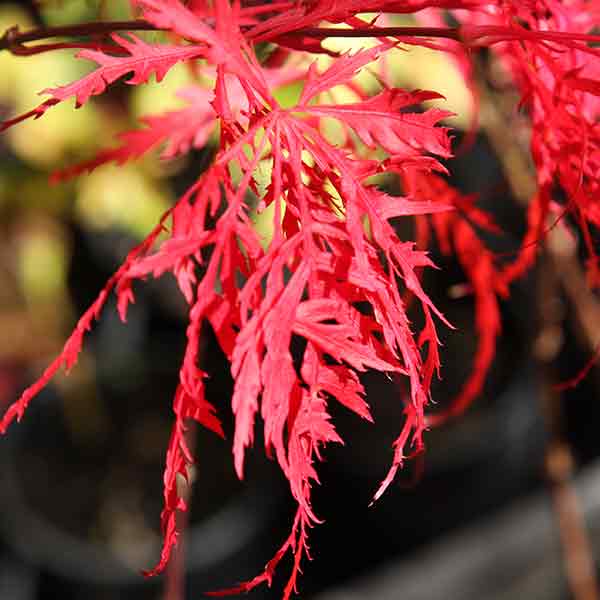 Many maples will grow well in a range of climates, however they do need a humus rich soil and some moisture.
Consult with your nursery as to the best variety for your zone.
Size
With such variation in size you need to look at the final height of the tree. The right sized tree for the location.
Colour, Leaf form and Bark.
These are aesthetic considerations, choose the variety that adds the most to your overall landscape design.
Varieties
Here we list some of the most popular Maple tree (Acer) species, certainly not them all, but those we regard as the best.
Acer campestre – The Feld Maples
Acer cappadocicum – The Cappadocian Maple
Acer circinatum – The Vine Maple.
Acer davidii – The Snake Bark Maples
Acer griseum – The Paper Bark Maple
Acer grosseri – Her's Maple
Acer negundro – The Box elder
Acer nigrum – Black maple 
Acer palmatum -The Japanese Maples
Acer platanoides – The Norway Maple
Acer pseudoplatanus – The Sycamore Maples
Acer rubrum – The Red Maples
Acer saccharum – The Sugar Maple
Acer truncatum – The Shantung maple
Looking at Shade Plants
Maple Trees are available for sale from the following nurseries
EASTWOODS NURSERIES – phone: 540-675-1234 634 Long Mountain Road Washington Virginia 22747 Specializing in mail order Japanese maples, ginkgos and a few conifers.
BLOOM RIVER GARDENS – phone: 541-726-8997 Fax: 541-726-405239744 Deerhorn Road Springfield, OR 97478Including: Acer circinatum, Acer palmatum, Acer griseum, Acer shirasawanum. Plus Conifers, Ferns, Hostas, Ornamental Grasses, Azaleas and Rhododendrons, Wisteria and more.
CAMELLIA FOREST NURSERY – phone: 919-968-0504 fax: 919-960-7690 9701 Carrie Road Chapel Hill NC 27516