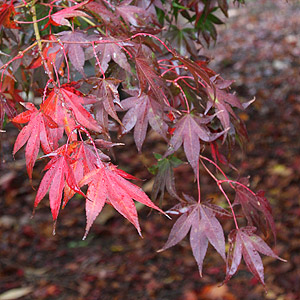 Japanese Maple Trees for sale online include Dwarf and Weeping types. These are Acer palmatum varieties, and include many excellent trees for small gardens many with brilliant color in fall.
With literally hundreds of of Japanese Maple Tree cultivars available for sale choices need to be made regarding foliage color, bark color, size and foliage type.
Japanese Maple Trees or Acer Palmatum are a deciduous tree grown for their autumn foliage and structural shapes and are readily available for sale from online nurseries.
Acer palmatum make great feature trees in any garden and once established are a reasonably hardy tree.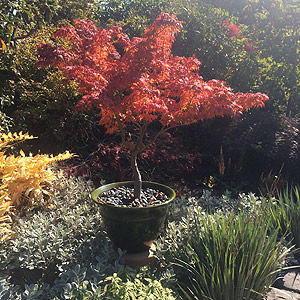 Foliage varies and includes laced and dissected leaves or cut-leaf Japanese Maples. Bark color also varies. Dwarf and weeping forms of many species and cultivars are also available.
Japanese Maple growing in container
Landscaping Uses
Used widely in general landscaping as well as in Japanese style gardens, these trees are originally from China, Japan and Korea. They grow naturally in semi shaded positions and prefer a humus rich well drained soil.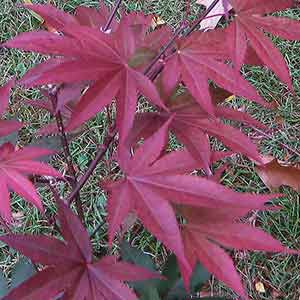 The smaller growing varieties can make excellent container specimens and make a great addition to Japanese Garden Design, as well as many other landscaping schemes.
If you are looking for a fast growing Japanese Maple (Acer palmatum) with great fall color then 'Glowing Embers' could be the answer.
Acer palmatum 'Glowing Embers' has deep green glossy foliage and is a fairly drought and heat tolerant Japanese Maple. Foliage will turn to a brilliant orange / red in fall. Acer Palmatun 'Glowing Embers' is a medium sized deciduous Japanese Maple that will reach 30 feet with a similar spread.
More Japanese Maples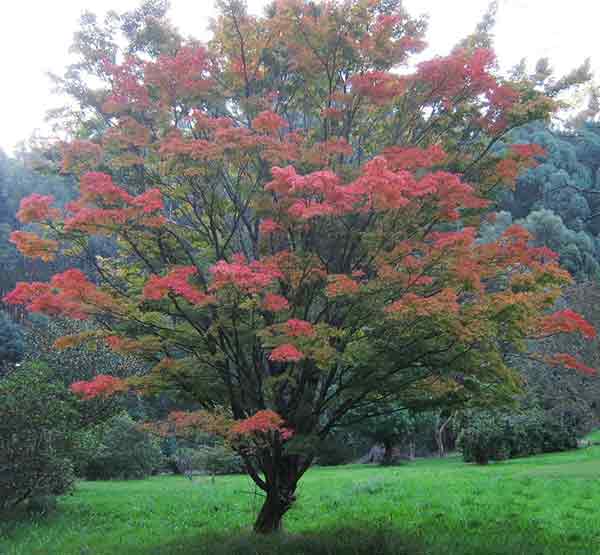 Acer palmatum Trompenburg
Acer palmatum 'Sango Kaku'
Japanese Maples For Sale
Looking at Japanese Garden Plants
Varieties
12 of the Best Japanese Maples For the Garden
Acer palmatum 'Bloodgood' – Purple leafed Japanese Maple
Acer palmatum 'Atropurpureum' – Purple Japanese Maple
Acer palmatum Emperor 1 – Perhaps the best of the purple foliaged maples.
Acer palmatum 'Inabe Shidare' – One of the best weeping Japanese Maples
Acer shirasawanum 'Aureun' – Golden Full Moon Maple
Acer palmatum var. dissectum 'Seiryu' – Upright dissectum maple. Hardy, vigorous and dainty light green lace leaf foliage turning brilliant Autumn tones of red and orange.
Acer palmatum 'Sango Kaku' – Coral Bark Japanese Maple
Acer palmatum 'Shishigashira' – Lions Head Japanese Maple
Acer palmatum 'Orangeola' – Excellent weeping or cascading Laceleaf Japanese Maple
Acer palmatum 'Mikawa Yatsubusa' – A dwarf variety with amazing foliage.
Where to buy
Japanese Maple Trees are available for sale from the following nurseries
---
EASTWOODS NURSERIES – phone: 540-675-1234
634 Long Mountain Road Washington Virginia 22747
Specializing in mail order Japanese maples, ginkgos and a few conifers.
BLOOM RIVER GARDENS – phone: 541-726-8997 Fax: 541-726-4052
39744 Deerhorn Road Springfield, OR 97478
Including: Acer circinatum, Acer palmatum, Acer griseum, Acer shirasawanum. Plus Conifers, Ferns, Hostas, Ornamental Grasses, Azaleas and Rhododendrons, Wisteria and more.
CAMELLIA FOREST NURSERY – phone: 919-968-0504 fax: 919-960-7690
9701 Carrie Road Chapel Hill NC 27516