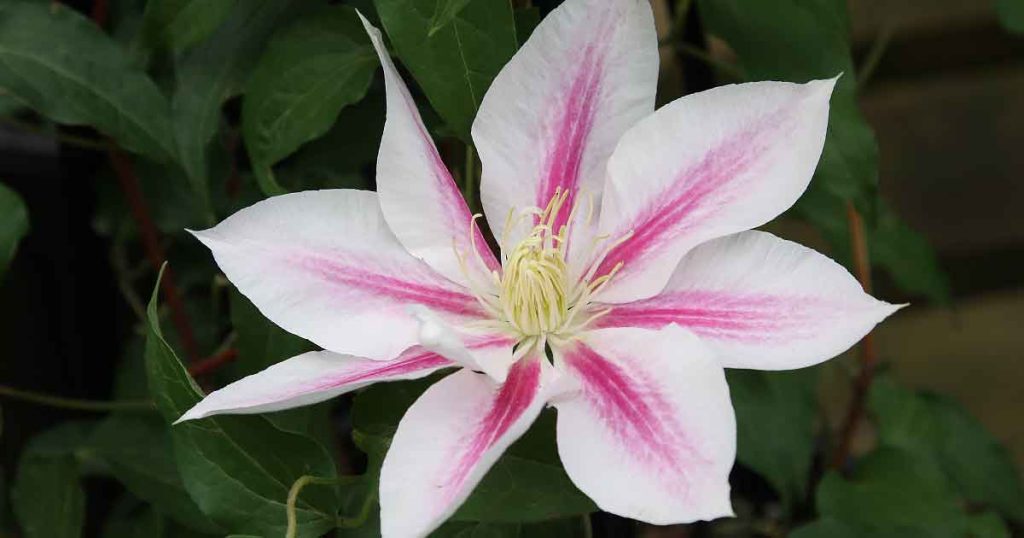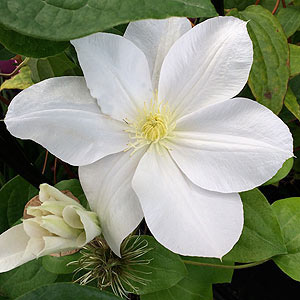 Clematis are really the Queen of climbing plants, fantastic colorful flowers that bloom in spring and summer. Easy to grow in the right climate, and really not that difficult to prune.
With such wonderful flowers you can easily see why these climbing plants are amongst the popular in the eyes of many gardeners.
They flower between spring and fall depending on variety and location, and flowers vary from delicate to large 'dinner plate' types. They grow well in containers, on a trellis or in the garden with some support.
Plant breeders are continually developing new Hybrids that are a beautiful climbing plant, fantastic flowers, beautiful range of colors, easy to maintain and they don't take over the garden.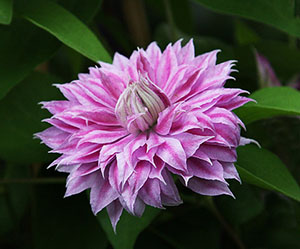 Generally a hardy climbing plant that require little care given appropriate growing conditions and even pruning is not difficult.
And clematis do make good companion plants, they can be allowed to grow through trees and shrubs without damaging or smothering them.
Hybrid clematis do not need a lot of space; simply a cool root run beneath and some sun above.
Of course species and old favourites are also popular, however look at what clematis nurseries have to offer for sale, something new every year.
With new propagation techniques more hybrids in exciting colors are available for sale every year from many specialist and Mail Order Nurseries.
Evergreen Clematis such as the Clematis Armandii cultivars available for sale are also very popular.
Landscaping uses :
As a flowering (but deciduous) screen or cover for a fence or wall.
To cloak an arbor and add atmosphere.
For the decorative nature of the flowers and foliage.
Specimen plants to grow on a tripod or obelisk.
As a rambler to be allowed to grow through a tree canopy.
Clematis Care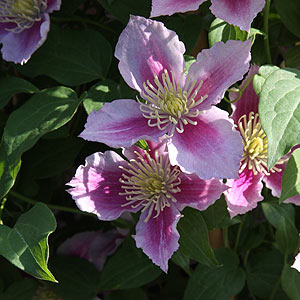 General Care

To get great flowers Clematis need good sun, around 6 hours a day. However clematis prefer to grow with cool root run, so plant clematis in humus rich moist but well drained soil, roots in the shade where the plant can grow into the sun.
How to plant Clematis
Clematis should be planted deep, it is good practice to plant several buds underground, this will encouraged new growth.
Make sure that the top of the root ball is at least 2-3in below the surface of the ground.
As with most plants it is a good idea to soak the clematis in its pot before planting, make sure you dig in some well rotted compost or manure before planting new clematis.
Mulch around plants to maintain that cool root run, usually about 2 inches of good organic mulch over an area of 2 -3 ft around the base of the plant.
When you buy a new plant it is often best to leave it in the container through the first summer and plant it out in early fall. Keep it well watered using a liquid seaweed fertilizer as well. This will encourage good root development. A general purpose tomato fertilizer is a good choice as well.
Clematis can also be grown in containers or pots, as long as they (and therefore the root system) are kept cool and shaded. Try growing one of the new hybrid clematis through an obelisk or tripod.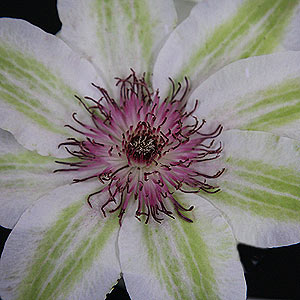 Clematis Varieties
Here is where modern Clematis cultivars come to the forefront, especially in terms of flowers.
The large flowers hybrids are very popular, and we also have variety in terms of double flowered types.
Over time compact growing forms have been developed, some reaching only around 2 ft in height and suited to growing in hanging baskets.
Some of the important species in hybridisation include :
Clematis viticella – Also known as the 'Virgins Bower' and this is the the one that started the Clematis craze right back in the mid 1500s. It is a European species and the The Viticella hybrids are more cold tolerant than any others. The species ranges from Blue to Red flowers.
Clematis texensis – From Texas as the name suggests, the flowers are a very different form, almost like a small tulip. Also known as Clematis coccinea, especially in Europe, as it has red flowers.
Clematis montana – Vigorous, early flowering and easy care, flowers are a creamy white and fragrant. Also known as the 'Anemone flowered clematis'.
Clematis integrability – Very unusual in that it is a non- climbing type, upright and woody with purple flowers.
Clematis henryi – Very attractive large white flowers.
Clematis cirrhosa – Evergreen and winter flowering.
Clematis alpina – Early flowering and one of the best for shade
Clematis macropetala – Sometimes called the 'Downy Clematis', very good in colder climates and grows well in part shade.

As for the best varieties :
Unless you are looking at the species, you really need to choose what flowers you like. Most catalogs have 50 – 60 different types.
Problems
Clematis not flowering.
Use a low nitrogen fertilizer, otherwise you will get lots of foliage and no flowers.
Brown foliage on the lower part of the plant
Usually due to lack of water.
Clematis plant just not growing
Often due to poor root development.
You May also like
Clematis Plants are available for sale from the following nurseries
---
DIGGING DOG NURSERY – phone (707) 937-1130
PO Box 471 Albion CA 95410
Hard to find perennials, ornamental grasses, shrubs, trees and vines for your garden.
PINE KNOT FARMS – 434-252-1990 phone 434-252-0768 fax
681 Rockchurch Road, Clarksville Virginia 23927 USA
Mailorder, retail and wholesale of our speciality, is hellebores. Open on site on Fridays and Saturdays in spring and fall where we offer a full range of herbaceous material.
BLUESTONE PERENNIALS
Offering a wide selection of bulbs, perennials, grasses, herbs trees and shrubs.
www.bluestoneperennials.com