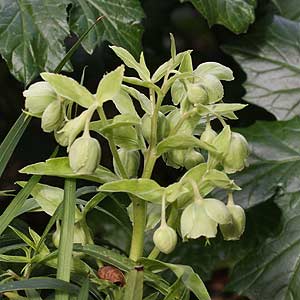 Also known as the 'Stinking Hellebore' Helleborus foetidus is a tall growing perennial with green bell shaped flowers.
And of course a number of cultivars are also available including some with golden green flowers and foliage.
The name 'Stinking Hellebore' is a bit of an exaggeration, they probably do not make the best cut flowers, however in the garden you will not notice any 'fetid' odour unless you are digging the plants to move them.
Best grown in a position where they receive winter sun and summer shade, they are ideal plants for beneath deciduous trees.
Care
Well drained humus rich soil.
Summer shade – Winter Sun
A little extra water in very hot dry summers.
Varieties
Helleborus foetidus 'Gold Bullion' – Evergreen with with golden green foliage and flowers.
You may also be interested in
Hosta plant care
Trillium
Hellebore Plants are available for sale from the following nurseries
---

SEQUIM RARE PLANTS
500 N. Sequim Ave. Sequim, WA 98382
PINE KNOT FARMS – 434-252-1990 phone 434-252-0768 fax
681 Rockchurch Road, Clarksville Virginia 23927 USA
SUNSHINE FARM and GARDENS – Phone/Fax 304-497-2208 Fax – 304-409-2698
BIG DIPPER FARM – Phone 360.886.8133
26130 SE Green Valley Rd Black Diamond, WA 98010