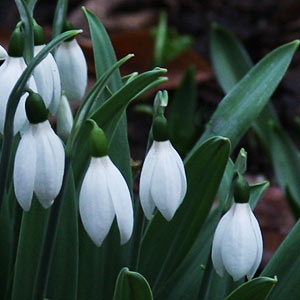 In the depths of winter a little color in the garden is just what is needed. In the colder zones this may be limited to foliage, in milder areas a number of plants can cheer up the garden with flowers as well.
Popular in many areas many plant will look great though winter, although in the colder USDA zones it does become a little more difficult. Some are tough, and these include the classic Galanthus, aptly named the 'Snowdrop' and it will push its way through snow.
Other plants just will not take the winters of the really cold zones and will wait until spring before appearing.
Of course you could always grow some winter flowering plants in pots or hanging baskets and on an enclosed patio, you should be successful. Pansies are a classic for this, easy to grow, cheerful and colorful and great in containers.
Plants suitable for different zones differ greatly if grown outdoors, however if a greenhouse or hothouse is used, or if plants are grown indoors over winter then growing zones begin to be unimportant.
In the cold days of winter flowers in the garden are a real bonus, and although many in the warmer southern states winter is not such a dull time in the garden further north some thought needs to go into selecting winter plants for the garden, pots and even growing indoors.
Winter Plants for Fragrance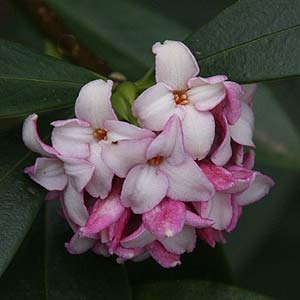 A little fragrance in the winter garden is an added bonus to flowers, and depending on the zone, you can have both. Some of the best plants for winter fragrance include :
Luculia pinceana is hard to go past for fragrance in the winter months, however this is best in USDA zones 9 – 10.
Honeysuckle, Lonicera fragrantissima, grows well to USDA Zone 5.
Corylopsis sinensis, the Chinese witchhazel. USDA Zone 6 – 8
Edgeworthia papyrifera and chrysantha, although the flowers not appear until spring, and therefore the fragrance. The flower buds are very attractive through winter
Sarcococca confusa also known as 'sweetbox', small flowers, but very fragrant best in USDA Zone 6 – 8
Daphne odora, the winter daphne, still one of the best plants for fragrance in winter.
List of winter flowering plants
Flowering Winter plant List for Zones 5 – 9 (depending on local conditions)
Hellebores are a favorite winter plant, tough, drought tolerant and with the ability to grow in poor soils (although they do a lot better in humus rich moist soils) in part shade as well as providing flowers during the coldest months. Low growing and with a range of flower colors from white through to deep red, a must for the winter garden.
Erica cerinthoides 'The Red Hairy Heath' to USDA Zone 8 – 9
Iris reticulata, wonderful low growing iris that will flower in winter. USDA Zone 5 – 9
Witch Hazel An excellent shrub for the winter garden. Lovely yellow flowers in the depth of winter, a great winter flowering plant for the border.
Camellias. Late in winter camellias with their colorful blooms provide a welcome relief to the dull winter garden. Evergreen and great as a screening plant.
Pieris Japonica. Lovely bell like flowers in late winter ranging in color from white to a rosy red. Also known as Japanese Pieris.
Wintersweet. If you are looking for fragrant flowers in winter then Wintersweet will do the trick.(Chimonanthus praecox)
Mahonia. We love the yellow flowers of Mahonia Japonica in winter, the foliage is a bonus all year round.
Snowdrops (Galanthus) really a late winter early spring bulb, plant in clumps in the border or grow in pots.
See who has winter flowering plants for sale from our Mail Order and Online Nurseries List.
What about flowering trees?
You could consider
Crape Myrtle
Davidia involuctra
Quercus