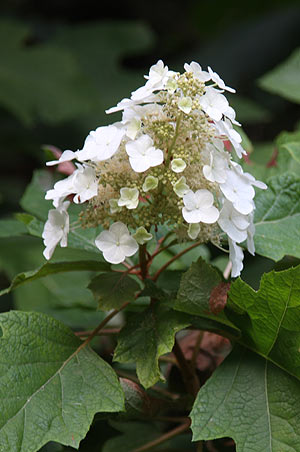 The Oak Leaf Hydrangea
Hydrangea quercifolia is commonly called the Oakleaf hydrangea, it is native to North Carolina through to Tennessee. Being one of the largest flowering types, if you are after a mass display of large flowers, them this is the variety for you.
Large growing, this is a plant that can look great at the back of the border. It can also be an exceptional plant behind a low fence, were the flowers can be allowed to poke up over the top.
The large leaves are an attractive green, and are deeply scalloped similar to Oak trees (hence the name) and turn a bright crimson during Autumn.
Hydrangea quercifolia (Oakleaf hydrangea) is characterised by large white dense pyramidical flowers that turn pink with age.
To add to the benefits of this wonderful plant, a few dwarf varieties are also available for sale, including H. quercifolia 'Sikes Dwarf' which will reach around 3 ft in height. Excellent for those with smaller gardens or for those who need a lower growing type.
Hydrangea quercifolia 'Ruby slippers' has flowers that open white, however quickly turn to pale pink and then a pale ruby red.
Oak Leaf Hydrangea Care
Like most Hydrangea, Hydrangea quercifolia prefer a humus rich moist well drained soil and are naturally found in a woodland setting. Part shade or dappled shade is best with protection from afternoon sun a must.
These are a popular plant for those with poor or sandy soils where things dry out a little in summer. The Oakleaf hydrangea may look a little sad and limp during hot summers, but will tolerate dry periods and spring back to life with a little moisture. USDA Zones 5-9 depending on cultivar.
How to Prune Oakleaf Hydrangeas
Oak leaf hydrangeas are pruned for number of reasons, to maintain shape and size, to remove dead or diseased wood and to improve flowering (flower size or flower numbers).
The key to pruning Oakleaf type hydrangeas is to understand that they will flower on old wood. This simply means the growth that they put on the previous summer. You could in fact not prune them at all, however after a few years they may become unruly.
Dwarf types generally need no pruning at all except for the removal of spent flower heads.
The simplest pruning method is to remove some of the older canes right back to the ground every few years. This will help regenerate the plant, try 1/3 of the canes at a time, every 3 years.
As a rule, selective pruning in spring will produce larger flowers, fall pruning smaller flowers, but more of them.
You can also lightly prune immediately after flowering, simply prune back 1/3 to 1/2 of the new seasons growth. If you prune back harder you will get no or very few flowers the next season.
You may also be interested in
Varieties
Hydrangea quercifolia 'Snow Queen'.
Hydrangea quercifolia 'Pee Wee' (a smaller growing form).
Snowflake (a lovely double flowered form).
Sikes dwarf.
Alice.
Little honey.
Amethyst (flowers age more quickly to a deep red)
Summary Information
Botanical Name: Hydrangea quercifolia
Common Name : Oak Leaf Hydrangea
Hardiness: USDA zones 5-9
Height : Varies depending on variety
Light: Full to part sun
Soil: Well-drained soil is important.
Moisture : Once established reasonably drought tolerant if mulched well.
Flowers: Large flowers in late spring to summer depending on the Zone. Flowers vary in colour and size depending on variety.
Foliage : Large Oak Leaf looking foliage as the name suggests, Colour differs depending on variety, often white turning to red.
Fertiliser; Fertilise in spring with a low nitrogen fertilizer.