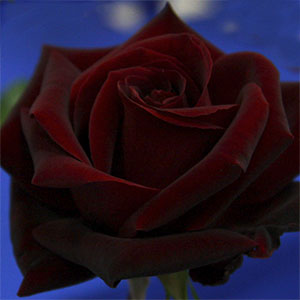 Yes Black Roses are a popular flower, and rose bushes as well as cut rose flowers that are are black are searched for widely on the internet, but do they really exist.
We bring you some facts about 'Black Roses' and the best nearly black variety, the Black baccara rose bush.
Black Baccara is a hybrid tea rose, fragrant and with very deep crimson to maroon petals it is 'almost black' but still not that dark.
Many roses carry the name 'Black' in their name, including 'Black Beauty' pictured right. It is however a very deep red, and it is not really black.
However White Roses are just as popular.
Multicolour Roses come in all of the colours of the Rainbow
Do Black Roses really exist?
Black roses are a bit of a myth, they actually do not exist.
What people call Black Roses are actually very deep red roses. So if you are looking for real Black Rose Bush, you will be a little disappointed, however you can get fairly close to it and using dyes or perhaps a little photoshop you can certainly make roses look black.
Meaning of the Black Rose
As for the meaning of Black roses, they have been used as a symbol of death or 'farewell' in both literature and art. The Black Rose is also used as a symbol of renewal. However, in nature no such rose exists.
So the Black rose means a number of things, some opposing
Death and Renewal
Farewell and Departure
Mourning
Evil and Revenge
Or if you are into all things 'Goth' then it could mean love.
Roses that may look 'almost black
Black Baccara Rose is the 'darkest' rose bush we have seen, but its still not really black…..
A list of other Roses that are very dark and seen as black include the deep red roses such as:
Rosa 'Black Magic'
Ink Spots
Black Jade
Taboo
Black Beauty
These six are probably the best examples
What about Blue Roses?
Suntory Ltd a Japanese company who have worked with the Australian company Florigene, are working on a genetically modified blue rose. To do this they are using 'what is called 'gene silencing technology' However, it is in its test stages at present. Most 'blue roses' you see in photographs are actually dyed, or coloured blue.
So what about those roses that I saw that really were black ?
If you look at how to make a black rose, you have two alternatives, photo manipulation, or black dye.
If it was a photograph, then the colour was most likely changed.
If it was in real life then either it was just a really dark red rose or maybe it was dyed black.