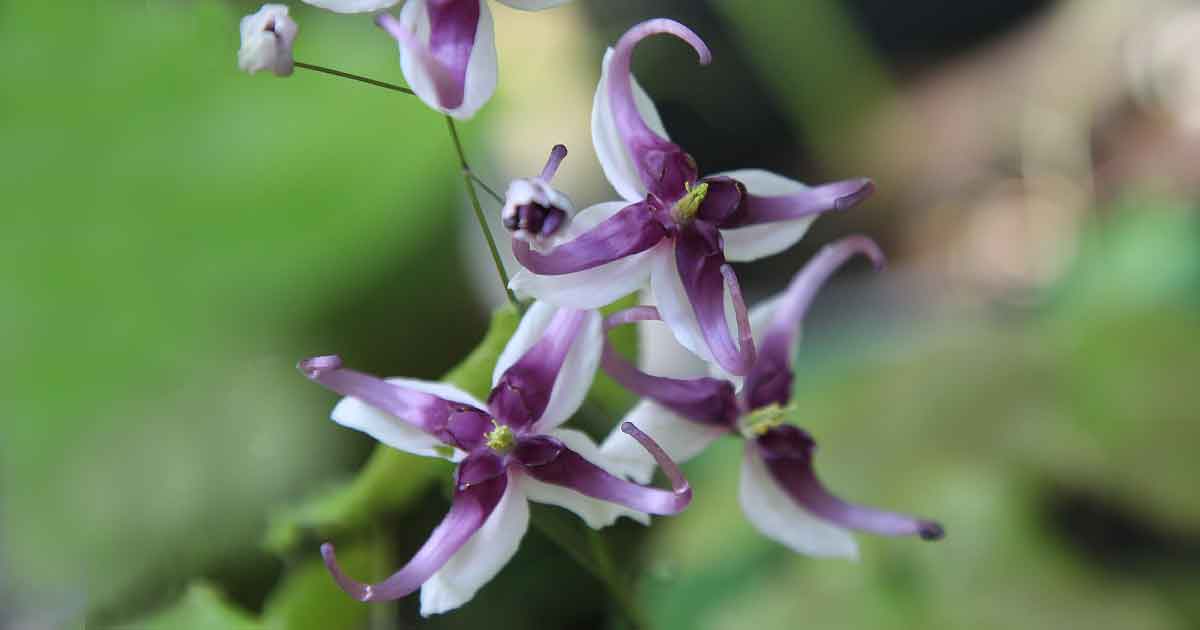 This interesting Chinese species, Epimedium acuminatum comes in a number of forms, the one we have growing has purple and white flowers. We actually consider this to be one of the best species for flowers that we grow at present.
Epimedium acuminatum has attractive pale green foliage and grows well in a shaded woodland position.
Sometimes called 'Chinese fairy wings' the flowers are characterised by the curving long spurred petals. Epimedium acuminatum Night Mistress is a darker flowering form.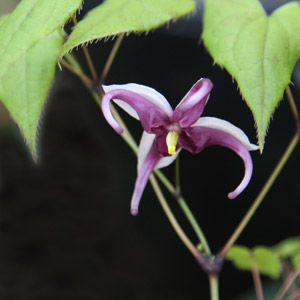 For us this is a long flowering species with blooms occurring first in late spring and then through to fall, seemingly depending on warmth and rainfall.
Over time this clumping perennial will expand to form a nice mass in the garden. After a number of years you can easily propagate Epimedium acuminatum by dividing these established clumps. Best carried out in early spring.
Epimedium acuminatum Care
Try a humus rich soil that has some well rotted manure dug well in. Epimedium rhizomatosum will do well in poorer soils, but will do a lot better in a good soil. Dappled shade, or morning sun and afternoon shade is best.
Moist well drained soil
Filtered light (dappled shade)
USDA zones 6 – 9
Pruning and Propagation
Larger clumps can be divided in fall, or in early spring. Cut back the previous years foliage in early spring just as new growth begins, this will ensure wonderful flowering
Epimedium Varieties
Lots of different forms, some Epimedium varieties with yellow flowers, others with darker or lighter flowers than ours and one with near white flowers. Most will reach a height of around 15″ – 20″ in cultivation.
Epimedium sagittatum.
Epimedium grandiflorum 'White Queen'.
Epimedium diphyllum
Epimedium franchetti
Epimedium x perralchicum 'Frohnleiten'
Epimedium x rubrum (red barrenwort)
Epimedium youngianum 'Niveum'
Epimedium x versicolor 'Cherry Tart'
Epimedium wushanense
Where to buy
---
GARDEN VISION EPIMEDIUMS – phone 978-249-3863
P.O. Box 50 Templeton, MA 01468-0050
email – gvepimediums@gmail.com
Best selection of Epimedium species/varieties in the U.S. along with a selection of other choice, hard to find shade perennials.
DIGGING DOG NURSERY
PO Box 471 Albion CA 95410 – phone (707) 937-1130
A spectacular selection of hard to find perennials, ornamental grasses, shrubs, trees and vines for your garden. Includes: epimedium frohnleiten, epimedium perralderianum, epimedium grandiflorum.