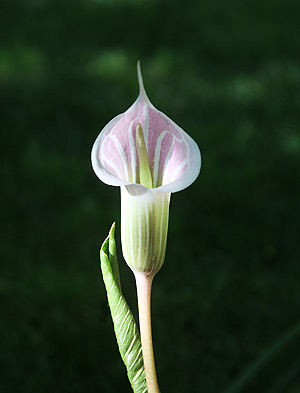 One of the most attractive species, Arisaema candidissimum is loved for the very pretty pink and white striped flower as well as the attractive large leathery foliage .

The large flower emerges at the same time as the first leaf. The flowers last a few weeks and then the large leathery foliage remains an attraction for many months.

Easy to grow in the garden or container this is a winter dormant plant and emerges usually after the last frost have gone. In the garden it will slowly spread to form a good clump. It does not seem to self seed as readily as some other Arisaema species.

Another species from China this species is fairly late to emerge in our garden however it is always a joy to see the first flowers in spring.

Low growing when compared to other species and we have found that it makes a great container plant as well as looking excellent when grown in clumps in the border or woodland garden.

The intriguing flowers appear in a hooded spathe, you may be tempted to use them as cut flowers, however they do not last as long in a vase as they do on the plant. So simply grow them in a container and bring them indoors when the flower emerges.

Arisaema candidissimum Care
These bulbs grow well in a sunny to part shaded position, some protection from the hot afternoon sun will help with flower longevity. Ideally a part shaded woodland position. A well drained soil is essential.

Like most arisaema, propagation is from offsets which can be divided in late fall, or from seed.

As for dividing the bulbs, Arisaema candidissimum will form offsets that can be divided easily every 2 – 3 years as they grow and naturally separate.

We suggest dividing the bulbs in early spring or late winter. This is when they are about to move into the growth cycle. Dividing at this time reduces the risk of rot and disease.

Mulch around plants to help maintain moisture and fertilize with a general purpose seaweed fertilizer or slow release type. We have never had trouble with slugs or snails on A.candidissimum, so no real need to protect them in our view.
Other Species
Summary Information
Botanical Name : Arisaema candidissimum
Common Name : Striped cobra lily, Chinese jack-in-the-pulpit.
Family Name : Aracaeae
USDA Zone : 4 – 8
Height : 18 inches – 24 inches, occasionally taller.
Spread : 20 inches (.5 metre)
Growth Rate : Medium to Fast
Flower color : Pink and white striped.
Foliage : Green, large textured three lobed leaves
Flowering time : Late spring to summer.
Soil : Humus rich, moist and well drained
Light : Medium to Light shade.
Humidity : Medium
Container Growing : Yes
Frost Tolerance : Light frosts only
Drought Tolerant : No