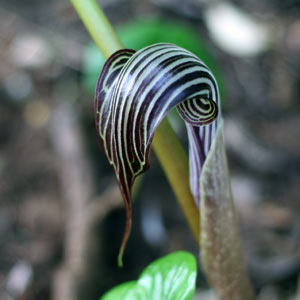 With a lovely purple to brown and white curving spade Arisaema fargesii is another easy to grow species named after the Frenchman (missionary and botanist) Père Paul Guillaume Farges.
Originally from Southern China and Flowering in late spring to early summer its glossy flower is a standout in the garden
Very large foliage and an excellent specimen or great when planted in a group.
The flower has an added interest when looked at more deeply, a red spadix hides beneath the striped hood.
Arisaema fargesii Care
Like most arisaema, propagation is from offsets which can be divided in late fall, or from seed.

Arisaema fargesii grows well in a part shaded woodland position surrounded by mulch to prevent it being crowded out.
Again this arisaema may also be grown in a container or large garden pot.
Other Species
Summary Information
Botanical Name : Arisaema fargesii
Common Name : Farges Cobra Lily
Family Name : Aracaeae
USDA Zone : 4 – 8
Height : 20 inches (.5 metre)
Spread : 20 inches (.5 metre)
Flower : Purple to brown with white stripes.
Flowering season : Spring
Foliage : Trifoliate (3 lobes), the central being the largest.
Growth Rate : Medium to Fast
Soil : Humus rich, moist and well drained
Light : Medium to Light shade.
Humidity : Medium
Container Growing : Yes
Frost Tolerance : Light frosts only
Drought Tolerant : No