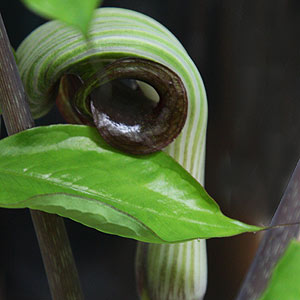 Another fascinating species is Arisaema ringens, also known as the Japanese cobra lily. However they are a little more widely spread than this, with some coming form Korea and China as well.
A few different forms of this bulbous plant are available. In general it is the coloration of that tight flower spathe that differs, some being shades of green, other have distinctive deep purple markings. (see picture right)
This is one of the earlier flowering species along with A. tryphllum and a few others, mid spring is its time to shine.
We like the leathery foliage as well, a strong statement well after the joy of the flowers has passed. The flowers are followed by seed heads, the seeds can be collected for propagation.
Arisaema ringens Care
In its natural environment this is a woodland plant, a humus rich soil and dappled shade is best. Growing well in pots or containers as well as long as the drainage is good.
Plant these wonderful tubers around 4″ deep (10cm). They do like moisture during the growing period and a reasonably dry dormancy.

If you happen to live in a really cold climate, subject to freezes then grow these in containers and overwinter them indoors
Propagation
Propagation is by natural division of the tubers or bulbs, or from seed. We like to divide arisaema late in winter just before new growth commences and Arisaema ringens is no exception.
Other Species
Summary Information
Botanical Name : Arisaema ringens
Common Name : Chinese cobra Lily
Family Name : Aracaeae
USDA Zone : 4 – 8
Flower colour : Green with white or Deep purple to black with white.
Flowering time : Spring
Foliage : Deep green tri lobed.
Height : 20 inches (.5 metre)
Spread : 20 inches (.5 metre)
Growth Rate : Medium to Fast
Soil : Humus rich, moist and well drained
Light : Medium to Light shade.
Humidity : Medium
Container Growing : Yes
Frost Tolerance : Light frosts only
Drought Tolerant : No