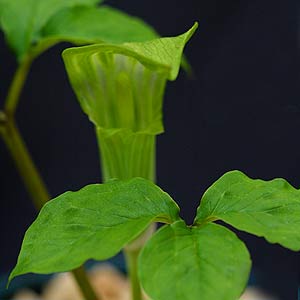 Arisaema amurense is originally from Asia, China, and Korea and appears in a number of forms.

Sometimes called the 'Chinese Cobra Lily', this is a species with a number of forms including a green form. Includes ssp. angustatum.

Varied, the flower is typically green with white or light green stripes or markings although sometimes the top of the hood is flushed with a brown to purple.
This is an early flowering variety and a Korean form of Arisaema amurense extract is sought after for the extract.

Foliage is a three lobed leaf with a nice texture. This is an early flowering species with a lot of variation in colour, generally low growing and with a few ssp including A. amurense v serratum.
Care
Like most arisaema, propagation is from offsets which can be divided in late fall, or from seed.

Arisaema amurense grows well in a part shaded woodland position. but not heavy shade.

Again this bulb may also be grown in a container or large garden pot.
Other Species
Summary Information
Botanical Name : Arisaema amurense
Common Name : Chinese cobra Lily
Family Name : Aracaeae
USDA Zone : 4 – 8
Flowers : Hooded
Flowering time : Spring
Foliage : Trifolate and mid green.
Height : 20 inches (.5 metre)
Spread : 20 inches (.5 metre)
Growth Rate : Medium to Fast
Soil : Humus rich, moist and well drained
Light : Medium to Light shade.
Humidity : Medium
Container Growing : Yes
Frost Tolerance : Light frosts only
Drought Tolerant : No