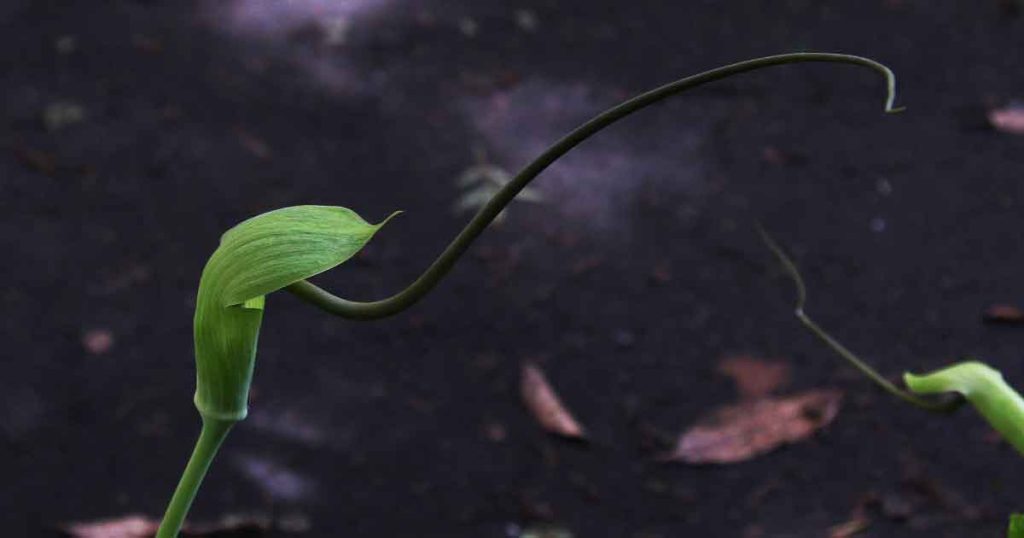 A tall growing species with a fascinating long whip like spadix, Arisaema tortuosum is sought after for its size as well as its flower and foliage. The long long spadix is a feature.
The spathe is green often tinged with red, while the distinctive long green or black whip like spadix can reach great lengths, this species is sometimes called the 'whip cord' cobra lily.
Growing up to nearly 2m this is a plant that needs a little space to show its true form.
Arisaema tortuosum Care
Growing naturally in the foothills at height of over 1000m this is a cool to warm growing species, a part shaded woodland position is best and again this arisaema may also be grown in a container or large garden pot.
In the garden a deep humus rich soil is best, however good drainage is also essential to prevent the tubers from rotting. Many growers divide Arisaema tortuosum in late winter to spring, just as the growing season commences, this seems to help avoid problems of newly planted bulbs rotting, which can occur if divided in fall.
Other Species
Summary Information
Botanical Name : Arisaema tortuosum
Common Name : Whipcord Cobra Lily
Family Name : Aracaeae
USDA Zone : 4 – 8
Height : 20 inches (.5 metre)
Spread : 20 inches (.5 metre)
Growth Rate : Medium to Fast
Soil : Humus rich, moist and well drained
Light : Medium to Light shade.
Humidity : Medium
Container Growing : Yes
Frost Tolerance : Light frosts only
Drought Tolerant : No