Japanese Cobra Lily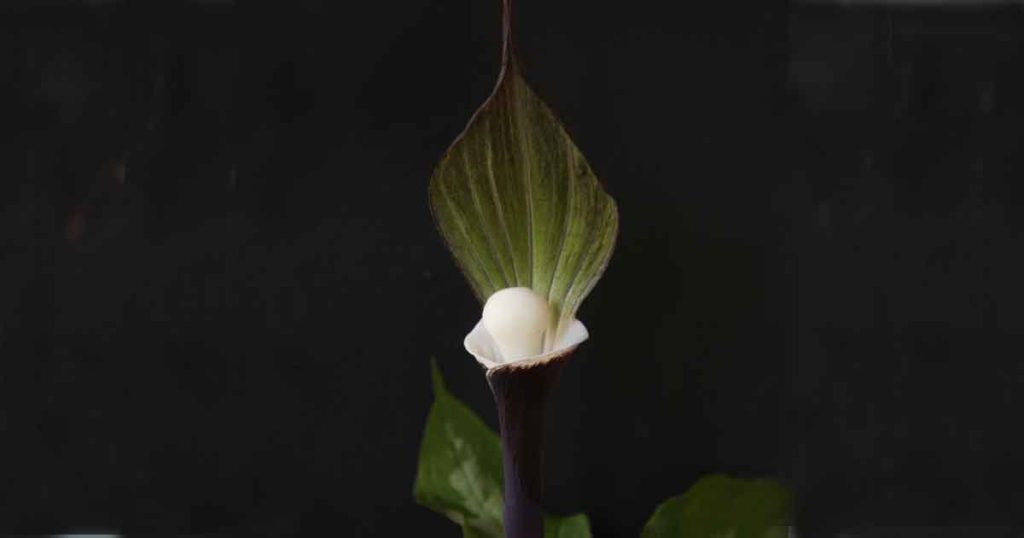 If you are looking for bold dramatic flowers then Arisaema sikokianum will be the one for you.

One of the many interesting Arisaema species, this particular plant is much sought after for its dramatic hooded flower.

The contrast between the dark hood and the snowy, pure white spadix making a dramatic picture in any garden. The light green marking are an added accent

One of the more spectacular Arisaema. Sometimes known as the Japanese Jack in the Pulpit or Japanese cobra lily. With its dark flower and its contrasting white spadix it grows to nearly 30 inches.

Long lasting foliage is another added attraction with this outstanding plant. A silver leaf form is also available, the leaves have a splash of silver in the centre.
Arisaema sikokianum Care
This is an easy plant to grow in a humus rich well drained soil.
Grow in part shade.
Do not allow the soil to dry out during dormancy.
Never allow the soil to become wet and soggy.
Leave the bulbs undisturbed for 3 – 4 years before dividing.
Use a little liquid fertiliser in early spring.
Propagation is from offsets which can be divided in late fall, or from seed. Seed heads can contain up to 1000 seeds and can be collected in late fall for propagation.

Arisaema sikokianum will grow well in a part shaded woodland position. This arisaema may also be grown in a container or large garden pot.
Other Species
Summary Information
Botanical Name : Arisaema sikokianum
Common Name : Chinese/Japanese cobra Lily or Jack in the Pulpit
Family Name : Aracaeae
USDA Zone : 4 – 8
Height : 30 inches (.75 metre)
Spread : 20 inches (.5 metre)
Flower : Unusual snowy white cup.
Flowering Time : Spring.
Foliage : Mid green.
Growth Rate : Medium to Fast
Soil : Humus rich, moist and well drained
Light : Medium to Light shade.
Humidity : Medium
Container Growing : Yes
Frost Tolerance : Light frosts only
Drought Tolerant : No