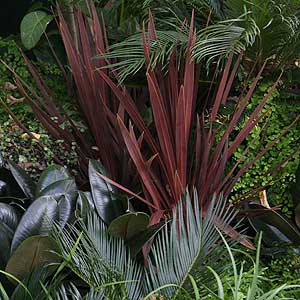 When we think of tropical plants we often think of both magnificent flowers and luxuriant tropical foliage. This large and sometimes colourful foliage is the real key to creating that 'tropical feeling' in the home garden, or on an enclosed patio.
Landscaping with tropical plants can help create a little piece of paradise even in gardens that are not in tropical zones.
The key is to choose the right plants for the right climate as well as to create 'microclimates' that allow plants to thrive in less than ideal conditions.
Tropical Plants usually fall into three categories :
Tropical foliage plants
Those with the large luxurious foliage we associate with tropical gardens.

Tropical flowering plants
Those with large and colourful flowers.

Tropical Fruit Trees
These will often be the most difficult to grow outside the correct zone.
With many tropical plants now available for sale online from specialist tropical plant nurseries, growing tropical plants in the home garden, or even as house plants, can create a feeling of lushness even in climates that are 'not quite tropical'.
When we think of plants that will give us a tropical feel we often consider plants such as Palm Trees, Hibiscus and even Ornamental Bananas. However lots of plants can help give a tropical feel to a garden. We provide a list of plants that can help give that 'tropical feel' to the garden.
Plants to create a Tropical Garden

Many Tropical Plants can be grown in cooler regions. They are excellent for providing a look of exotica in a garden. Listed below are some of the best plants for that 'Tropical Look'.
Ornamental Gingers
Calanthes
Anthuriums
Palm Trees
Phormium (New Zealand Flax)
Mango
Miracle Fruit
Lychee
Palm trees